2015 Press Releases
December 19, 2015
CEEZAD Annual Meeting
CEEZAD held its annual general meeting November 16 – 18, 2015 at the Lied Lodge and Conference Center in Nebraska City, Nebraska. The meeting brought together more than 100 national and international participants in a major initiative to link up CEEZAD Principal Investigators and other researchers, animal health companies, animal agricultural industry stakeholders, federal administrators and employees as well as students studying in areas related to transboundary and zoonotic animal diseases. Conference Organizer, Dr. Juergen Richt, Director of CEEZAD and Regents Distinguished Professor at the College of Veterinary Medicine at Kansas State University (KSU) and Matt Coats, Program Manager at the US Department of Homeland Security, Science and Technology Directorate welcomed meeting participants.

The meeting included oral presentations of select CEEZAD projects and keynote presentations by invited renowned experts in their fields. Science projects presented focused on vaccine development for Rift Valley Fever (RVF), African Swine Fever (ASF) and highly pathogenic avian influenza (HPAI). Work was presented by Dr. Bonto Faburay, KSU, who discussed the development of a recombinant subunit vaccine for RVF; Dr. Yolanda Revilla-Novella, CBMSO-CSIC-UAM, Spain, on a novel vaccine approach against ASF using heterologous prime-boost vaccination; and Dr. Wenjun Ma, KSU, who presented collaborative work on a new NDV-based vaccine against H5Nx. Additionally, Dr. Thomas Briese, Columbia University, discussed a pathogen surveillance and discovery project which employs highly multiplexed MassTagPCR and metagenomic high throughput sequencing for pathogen discovery and the luciferase immunoprecipitation system for the demonstration of adaptive immune responses to the various pathogens. Two new researchers to KSU, Drs. Lina Mur and Alfonso Clavijo, discussed new developments in epidemiological approaches and serologic diagnosis, respectively, for foreign and emerging animal diseases. Dr. Mur focused on the importance of combining newer epidemiologic methodologies such as risk analysis methods, and syndromic and digital surveillance to enhance early detection of these diseases. Dr. Clavijo discussed his work on the development of new serological tools for the detection of ASF, FMD and RVF and the importance and specific characteristics required of such tools in diagnostic kits to demonstrate freedom from disease or for disease surveillance.
Three keynote presentations were given during the meeting. Dr. Denis Kolbasov of the State Science Institution National Research Institute for Veterinary Virology and Microbiology of Russia (VNIIVViM) spoke about African Swine Fever (ASF) in the Russian Federation including results from his field and experimental studies on the contribution of wild boar, ticks and other risk factors in the introduction, persistence and spread of the disease, as well as the use of sequence analysis of ASF isolates to track outbreaks. In a second keynote presentation, Dr. David Suarez of the Southeast Poultry Research Center, USDA-ARS discussed the recent HPAI outbreak in US poultry and his investigation of HPAI in wild birds in the US. Dr. Donald King of the Pirbright Institute in the United Kingdom spoke on the dynamic epidemiological patterns of FMD throughout the world and his work on new diagnostic tools to improve monitoring of outbreaks and detect threats of FMD.
CEEZAD's educational and outreach initiatives were highlighted by Dr. Glenda Dvorak of Iowa State University, College of Veterinary Medicine and Center for Food Security and Public Health and Dr. Jessica Green, CEEZAD program coordinator at KSU. Dr. Dvorak detailed their project to increase online educational resources related to emerging, foreign and zoonotic diseases including a recent focus on web-based training for animal infectious diseases emergencies. Dr. Green showcased CEEZAD's two-week BSL-3 Training/Transboundary Animal Disease Summer Program offered for the first time in June 2015 at KSU in collaboration with the Biosecurity Research Institute.
The meeting also included a poster session in which CEEZAD PIs and graduate students highlighted their research projects.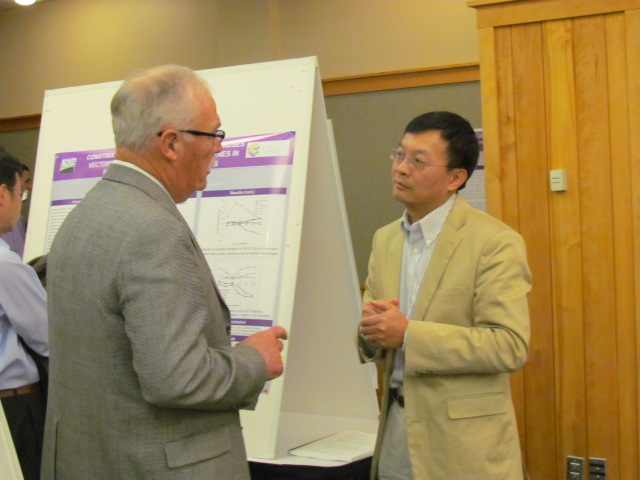 A panel of experts from Washington D.C. and KSU including Dr. Larry Barrett, DHS PIADC; Dr. Michelle Colby, DHS S&T; Dr. Beth Lautner, USDA-APHIS; Dr. Cryil Gay, USDA-ARS, Dr. Marty Vanier, NABC, DHS S&T; and Dr. Ron Trewyn, KSU discussed ongoing work to build the new state-of-the-art biocontainment laboratory, the National Bio and Agro-Defense Facility (NBAF) in Manhattan, Kansas scheduled to open in 2022. Pathways for the transition of new technologies to NBAF, as well as current and possible private, state and federal initiatives to protect the nation's food supplies were featured in the animated discussions.
A meeting highlight was a series of presentations and panel discussion from representatives of various sectors of the US food animal production systems. Dr. Dave Pyburn (National Pork Board), Dr. Ashley Peterson (National Chicken Council), Dr. Lee Borck (Innovative Livestock Services, Inc.), Dr. Carl Heeder (Zoetis/turkey industry), and Mr. Shawn Schafer (North American Deer Farmer's Association) gave sobering assessments of problems and threats to their industries and, by extension, to the US animal protein food supply systems. The producers' perspective of the recent US highly pathogenic avian influenza epidemic highlighted the threat of exotic infectious diseases to our food supply, whose safety is often taken for granted, as well as the significant societal ramifications due to the economic losses of export markets and to animal disposal as well as the adverse emotional effects on producers and their families.
Given the breadth of the interests represented, the keenness of the researchers to advance their work, and the possibility of substantial public and private funding, the meeting provided exciting opportunities and momentum for continued collaboration and progress in efforts to combat transboundary and zoonotic animal diseases of importance to US agricultural and public health. The sponsors included Vaxliant, KSU College of Veterinary Medicine, BIOO Scientific, Midwest Veterinary Services (MVS) along with Veterinary & Biomedical Research Center, Inc. (VBRC), Boehringer Ingelheim, Ceva, Avimex, Orion Integrated Bioscience and Genereach USA.
---
July 17, 2015
Center of Excellence for Emerging and Zoonotic Animal Diseases Introduces Students to High-Containment Laboratory Research
While the National Bio and Agro-Defense Facility is under construction, the training of future transboundary animal disease researchers is happening now. This summer, the Center of Excellence for Emerging and Zoonotic Disease, or CEEZAD, introduced 10 students from Kansas State University and six other institutions to high-containment laboratory research in a two-week program at K-State's Biosecurity Research Institute.
Source: K-State Lifeline
---
June 11, 2015
Further Spread of Highly Pathogenic Avian Influenza: The Big Picture
Some 140 news outlets, including The International Business Times, The Times of India, Medical News Today in the United Kingdom and The Medical News in Australia, have now published information from the CEEZAD Press Release of May 26, 2015.
With more than 45 million birds already having been culled in the United States, attention is now focused on the new H5 subtype virus which has resulted in the killing of more than 10 percent of the country's egg-laying chickens. The resulting egg shortage has caused a price increase by about 85 per cent during May, leading to increased importing of eggs and increased use of egg substitutes. Clearly, this emerging bird virus is already having an impact on human diet besides its devastating effect on animal health.
In March, the United States Department of Agriculture (USDA) had already identified more than $160 million in indemnity payments to be made to producers whose flocks had been affected at that time by Highly Pathogenic Avian Influenza (HPAI). However, it is still hoped that it will prove possible to bring this new virus under control. The five key biosecurity measures for backyard and commercial poultry owners that are essential to be applied quickly and effectively are: (1) quarantine of affected farms; (2) eradication of flocks with infected birds; (3) regional monitoring; (4) disinfection; and (5) testing.
Although vaccination might ultimately prove necessary, it should be noted that there are significant issues with the vaccination process. First, presently available vaccines might only provide limited cross-protection with the H5 subtype viruses circulating in the U.S. Second, if vaccination were to become necessary, USDA has pointed out that: "Some significant trading partners have indicated that, if we began vaccinating, they would ban all U.S. exports of poultry and eggs until they could complete a risk assessment . . . [which] often requires a significant amount of time. The loss of these markets could potentially cost U.S. poultry producers billions in lost export sales that would need to be diverted to other export and domestic markets, with no clear timeline for reopening closed markets." (See http://content.govdelivery.com/accounts/USDAAPHIS/bulletins/1079e08)
Basic research, effective biosecurity on farms, vaccine development and extensive field monitoring are all essential components in this important challenge to implement a One Health perspective to prevent further spread of HPAI.
---
May 26, 2015
Vaccines developed for H5N1, H7N9 avian influenza strains
A recent study with Kansas State University researchers details vaccine development for two new strains of avian influenza found in other countries that can be transmitted from poultry to humans. Those strains, not found in the U.S., have led to the culling of millions of commercial chickens and turkeys as well as the death of hundreds of people.
The new vaccine development method is expected to help researchers make vaccines for emerging strains of avian influenza more quickly. This could reduce the number and intensity of large-scale outbreaks at poultry farms as well as curb human transmission.
Read More at K-State News and Communications.
View related news reports at TVeyes
---
March 5, 2015
CEEZAD director Richt helps organize international conference on West African Ebola virus
A faculty member from Kansas State University is one of four organizers of a national conference to review the status of Ebola viruses and potential vaccines in Washington, D.C., from March 25-29.
Jürgen Richt, regents distinguished professor and a Kansas Bioscience Authority eminent scholar, is the director of the U.S. Department of Homeland Security Center of Excellence for Emerging and Zoonotic Animal Diseases, or CEEZAD, at the university. He is helping organize the seventh International Symposium on Filoviruses, which will focus on issues related to the West Ebola virus following a deadly outbreak in Sierra Leone and Liberia in late summer and early fall 2014.
Read more at K-State News and Communications.
---
January 20, 2015
Report from the workshop on Defining Requirements for International Field Trials for Conventional and Next-Generation Foot and Mouth Disease Virus (FMDV) Vaccines and Diagnostics is now available
A June 2014 workshop in Washington, DC convened national and international experts to discuss requirements for field trials of Foot and Mouth Disease (FMD) vaccines and diagnostics in an FMD endemic country. This is the first in a series of workshops to be held by the Center of Excellence for Zoonotic and Animal Disease Defense (ZADD), co-led by the Institute for Infectious Animal Diseases (IIAD) and CEEZAD.
Read the full report here.
---