2022 Press Release
May 19, 2022
CEEZAD researcher outlines findings on insect transmission of SARS-CoV-2 virus and reassortment of Rift Valley Fever virus
A member of the research team at the Center of Excellence for Emerging and Zoonotic Animal Diseases (CEEZAD, www.ceezad.org) recently delivered a presentation on his research into arthropod-borne viruses.
Dr. Velmurugan Balaraman, a post-doctoral fellow at the Richt Lab and a member of CEEZAD, spoke on the role of arthropods in the transmission and reassortment of RNA viruses. His remarks were part of a seminar series presented by the Department of Diagnostic Medicine and Pathobiology at KSU's College of Veterinary Medicine.
The focus of his presentation consisted of two-parts: In part 1, he outlined the potential for transmission of the SARS-CoV-2 virus by insect vectors; and in part 2, he reported the findings of a recent study of Rift Valley Fever Virus reassortment in the Culex tarsalis mosquito vector.
With respect to the potential for transmission of the SARS-CoV-2 virus by insect vectors, Dr. Balaraman reported on study results showing that while the tested species of mosquitos and midges can harbor SARS-CoV-2 RNA for up to 10 days, no infectious virus was isolated from those insects. He said this finding was in line with several previous studies on a similar topic.
As part of the same study, he also reported on research into whether the SARS-CoV-2 virus could be mechanically transmitted by house flies. He first found that house flies could carry and harbor SARS-CoV-2 virus for up to 24 hours. In the second study, he found that SARS-CoV-2 contaminated house flies could transmit SARS-CoV-2 RNA, but, not infectious virus, to other environments.
Overall, these studies appear to support the view that biting insects and non-biting flies do not play a significant role in the ecology and epidemiology of SARS-CoV-2.
The Rift Valley Fever virus is a single-stranded, segmented RNA virus. It is endemic in sub-Saharan Africa and the Arabian Peninsula, causing severe disease in cattle, sheep, camels, buffalo, some deer and can be transmitted to humans.
His research in that area focused on finding the frequency of RVFV reassortment in mammalian and mosquito systems. His research finding suggests that RVFV reassortment frequency is higher in vitro in mammalian cells than in mosquito cells. His research also found that RVFV reassortment frequency in vivo is higher in mosquitoes than in sheep. Overall, his research emphasis the significance of insects in virus transmission and reassortment of Rift Valley Fever virus.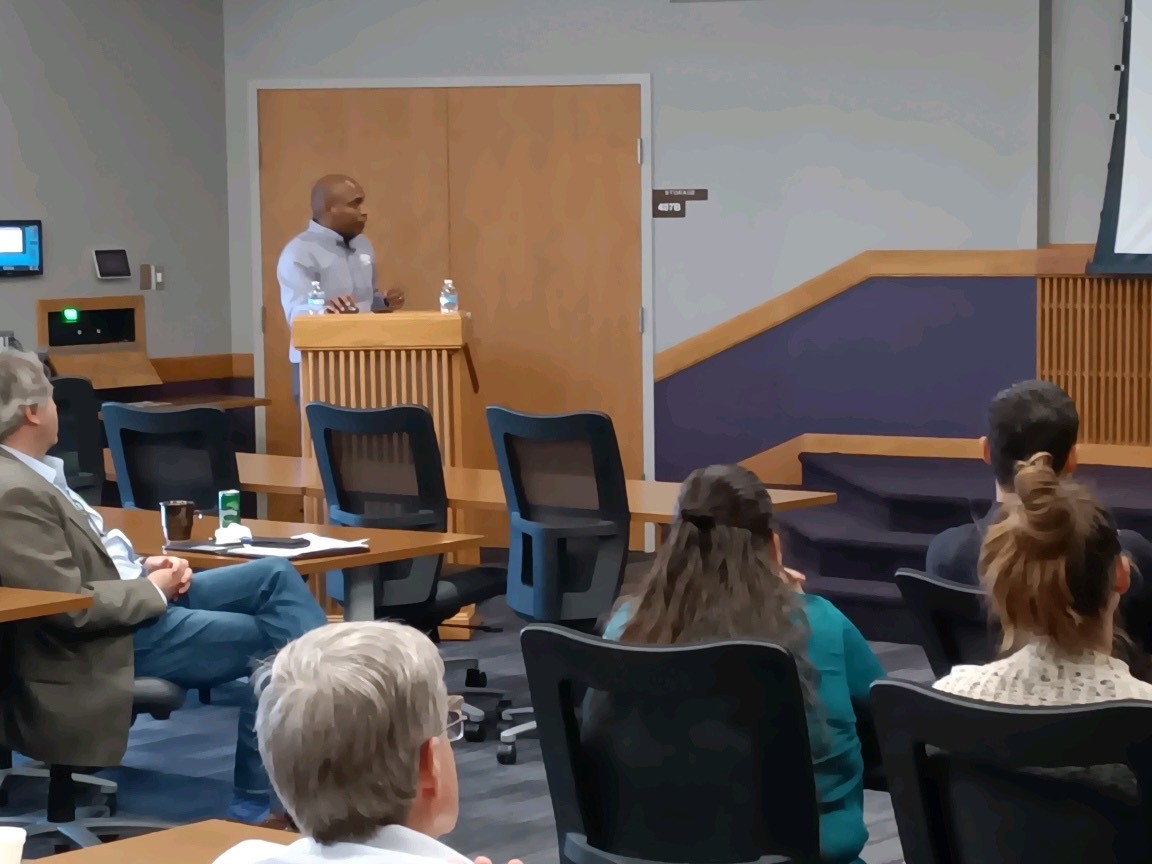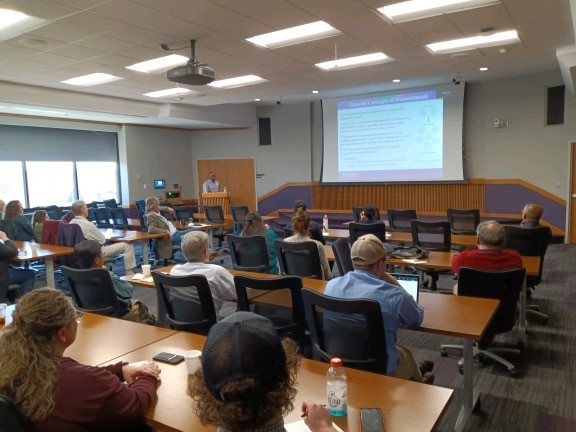 April 22, 2022
Canada: Avian Influenza
A Quebec duck farm says it has detected a case of avian flu in one of its breeding facilities.
Brome Lake Ducks says in a news release that the highly pathogenic H5N1 strain of avian influenza was confirmed April 12 on a farm in St-Claude, about 100 miles east of Montreal.
The company says it has quarantined the farm as well as another facility in Knowlton, Que., and is working with the Canadian Food Inspection Agency to put biosecurity measures in place.
Quebec's first bird flu cases were detected in 3 wild geese earlier this month, and several other provinces have already reported outbreaks in wild and domestic populations.
While most forms of avian flu are mild, H5N1 can cause serious disease and death in birds.
No human cases have been detected in Canada, and the CFIA says avian influenza is not a significant public health concern for healthy people who are not in regular contact with infected birds.
United States: Avian Influenza
More than 200 birds have died from a presumed outbreak of avian flu at a Chicago-area forest preserve, according to authorities.
The deaths occurred at the Baker's Lake forest preserve, the Forest Preserves of Cook County said in a statement April 14..
The federal government, which provides the only declaration of incidences of avian influenza, is conducting further tests to determine the cause of death.
The highly pathogenic avian influenza (HPAI) A(H5N1) virus is very contagious among birds and can be lethal in domestic poultry, according to the Centers for Disease Control and Prevention. However, it poses a low risk to the human population.
Zoos across the country have been moving their birds indoors over the past couple of months to protect them from the spread of the potentially deadly strain.
The Baker's Lake preserve is home to one of the most significant heron rookeries in the Midwest, according to the Forest Preserves organization.
Algeria: Brucellosis
In the municipality of Sedrata, an outbreak of 15 cases of brucellosis among cattle has been recorded, as reported April 12 by the state veterinary inspectorate.
The veterinary inspector, Ahmed Muqati, explained to Algeria Press Service that this outbreak was investigated following the results of veterinary analysis conducted by the regional veterinary laboratory of the neighboring state of El Tarf. Blood samples were taken from 62 dairy cows on the same livestock farm in the municipality of Sedrata.
The results of the analysis revealed 15 positive cases out of 62 cows, as indicated by the same official, adding that the legal procedures in force were initiated by sending an order for the mandatory slaughter of the 15 cows infected with brucellosis.
The state veterinary inspector said that after the compulsory slaughter of the cows concerned, the farmer concerned will submit a file for compensation in accordance with veterinary legislation.
Philippines: Leptospirosis
At least 4 deaths from 25 cases of leptospirosis disease have been recorded in Davao Region this year, according to the Department of Health (DOH) - Davao.
Based on the latest data of DOH presented by assistant regional director Dr Gerna Manatad, 2 of the 4 deaths caused by leptospirosis were from Davao del Norte, with 1 each from Davao City and Davao Occidental.
The 25 cases of leptospirosis were also found to be most prominent in Davao City with 18 cases, followed by Davao del Norte with 4 cases, Davao de Oro with 2, and 1 in Davao Occidental.
"Based on our monitoring there are areas with flooding due to the low-pressure area (LPA) situation, brought about by the bad weather, we are also looking into leptospirosis cases," said Manatad.

United States: Tularemia
A cat in Urbana, Ill., was recently diagnosed with tularemia, a disease caused by bacteria potentially spreading from animals or ticks to people, the Champaign-Urbana Public Health District said.
The bacteria, Francisella tularensis, can be passed to people through the skin if they handle infected animals or if they inhale contaminated dust or aerosols, especially during outdoor activities such as farming or lawn mowing. People can also become infected if they are bitten by infected ticks.
The disease in people can come without symptoms or be life-threatening. Symptoms in people can include a sudden onset of fever, chills, headache and fatigue following the incubation period, which can range from 2 to 10 days, health officials said.
Tularemia, also called "rabbit fever," has been known to sicken rabbits, muskrats, prairie dogs and other rodents, but domestic cats are "very susceptible" and have been known to transmit the bacteria to people, the health district said.
Congo: Plague
According to the WHO, through April 17, the Democratic Republic of the Congo (DRC) has reported 56 cases of bubonic plague, including 2 deaths. The outbreak is currently focused on 2 health areas -- Rassia and Lokpa where the latter makes up 95% of cases reported in 2022.
In 2021, a total of 138 suspected cases including 14 deaths (CFR 10.1%) were reported. In 2020, a total of 461 suspected cases including 31 deaths (CFR 6.7%) were reported.
Plague is endemic to the north-east areas of the Democratic Republic of the Congo (DRC) where cases were reported for the 1st time in 1928.
The endemic nature of the disease in this region is linked to more cases in the rainy seasons (from March-May then July-November), harvest seasons, and its peri-forest environment leading to the presence of peri-domestic rodents that can carry the plague bacillus and rodent fleas that transmit plague.
Congo: Monkeypox
The Democratic Republic of the Congo (DRC) has tallied 1,088 monkeypox cases during the 1st 3 months of 2022, according to the latest information from the World Health Organization (WHO).
A total of 52 fatalities have been attributed to monkeypox this year to date.
Monkeypox is in the same family of viruses as smallpox but generally causes a milder infection. It can be spread between people through direct contact with skin lesions or body fluids, or contaminated materials such as clothing or linens. It can also be spread through large respiratory droplets which generally cannot travel more than a few feet, and prolonged face-to-face contact is required.
Illness typically begins with flu-like symptoms and swelling of the lymph nodes, progressing to a widespread rash on the face and body. Most infections last 2-4 weeks. The individuals identified as having been potentially exposed to this case will be monitored for symptoms of monkeypox for 21 days after exposure.
Human monkeypox infections primarily occur in central and western African countries.
March 31, 2022
Panama: Hantavirus
Coclé provincial health authorities have confirmed the first hantavirus case this year. They indicated that this is a 43 year old female patient from the Olivo community in the Nate district, who presented with the first symptoms of the disease. They explained that the patient was kept between 24-28 hours in the intensive care unit in the Rafael Estévez Hospital, and later transferred to a ward in stable condition where she remains.
One of the patient's family members survived a hantavirus infection 10 years ago, according to the medical team.
Hantavirus infection is an emerging zoonotic disease transmitted by rodents including mice and rats. It is characterized by presentation of symptoms including fever, myalgia, and gastrointestinal signs followed by the beginning of sudden respiratory distress and hypotension.
Cameroon: Cholera
A total of 29 people have died from cholera in Cameroon in the space of a week, the health minister said March 25. Most of the deaths occurred in 3 cities in the west of the country, which has seen a spike in cases of the waterborne disease. Cholera is an acute form of diarrhea that is treatable with antibacterials and hydration but can kill within hours if left untreated.
"We saw a spike in cases of cholera in the Southwest region, with more than 300 cases registered," Health Minister Manaouda Malachie tweeted. He said there were "20 deaths in Kumba,... 2 deaths in Buea,... 5 deaths in Tiko (and) 2 deaths in Yaounde," the capital.
A total of 62 people had died since October 2021, and over the period nearly 2,100 cases had been detected, Malachie wrote, adding that the authorities were coordinating a vaccination campaign and other measures to contain the outbreak.
Outbreaks occur periodically in Cameroon, a west African nation of more than 25 million inhabitants. The last epidemic was between January and August 2020, when 66 people died. The WHO said in early 2021 there were between 1.3 and 4 million cases of cholera per year around the world, leading to between 21,000 and 143,000 deaths.
United Kingdom: Crimean Congo Hemorrhagic Fever
A human case of Crimean-Congo hemorrhagic fever (CCHF) has been confirmed in a woman in the United Kingdom. She was diagnosed with CCHF at an unknown hospital at Cambridge University Hospitals NHS Foundation Trust, having recently returned from Central Asia. The country she had recently travelled to, or whether she visited multiple countries, is currently unknown. She has since been moved to the Royal Free Hospital in London and is receiving specialist care.
Transmission of the CCHF virus can occur via direct contact with infected tissue or via bites from infected hyalomma ticks, which are not established in the UK. The risk to the public is estimated to be 'very low' according to chief medical advisor of the UK Health Security Agency (UKHSA), Dr. Susan Hopkins, with contacts of the case being traced, assessed and given advice.
Fiji: Typhoid Fever
An outbreak of typhoid that resulted in the death of a woman and her 2 children has forced the Ministry of Health to impose a 21-day lockdown of Togovere in Rakiraki. Health Ministry permanent secretary Dr. James Fong said the situation in the village was a concern for the Western Division health team and measures were taken to contain the outbreak when it was first detected. "Unfortunately, we are getting back data that there are some leakages in our containment measures," he said. "That's why we have escalated to an enhanced form of containment."
Dr. Fong said the villagers have been given health advice on how to beat the outbreak. "A lot has to do with food hygiene, water to be boiled before drinking, no communal eating that will help us to pinpoint exactly where the issues are." He said a lot of screening will take place in the village. "The screening is not [a] one-off; it requires testing to be sure a negative person is really negative and anybody who turns out positive will need to be adequately managed."
United Kingdom: Avian Influenza
More than 82,000 ducks are to be culled amid an outbreak of bird flu, Suffolk Trading Standards said. The H5N1 strain was found at the Gressingham Foods site at Debach, near Woodbridge, over the weekend. The company's Redgrave site was affected earlier this month, and 35,000 ducks had to be culled there.
The Department of Environment, Food and Rural Affairs has urged poultry keepers in Suffolk to "step up their efforts" as the UK faces its "largest outbreak". Chief veterinary officer Dr. Christine Middlemiss said the UK was seeing its "worst" ever avian flu outbreak. She said Suffolk in particular had seen a large increase in infections amongst wild birds. Although there was "no direct evidence" people were helping to spread the virus, Dr. Middlemiss urged farmers and keepers to be "absolutely, scrupulously clean" when moving between sheds and bird housing.
Sasha Watson, from Trading Standards, who described the latest case -- the 5th in the county in a month -- as a "very big outbreak", said the 82,400 ducks would be culled over the next few days.
United States: Avian Influenza
Bird flu has hit another commercial turkey operation in northwest Iowa, the 3rd outbreak in Buena Vista County and the 6th in the state since the beginning of March, the Iowa Department of Agriculture said. The state said the facility has nearly 54,000 turkeys being destroyed to prevent the spread of the highly contagious disease. The virus can wipe out a flock within 48 hours.
Buena Vista County has been under a state disaster proclamation since March 6 when the first outbreak was reported in a commercial flock of nearly 50,000 turkeys. And a week ago, the state said the deadly disease hit an egg-laying operation with 5.3 million hens.
The disaster proclamation enables the state agriculture department and other agencies to help track, monitor and contain the disease. Officials are testing 7 flocks in a 6-mile area around the infected site, and monitoring 14 others, said Chloe Carson, the department's spokeswoman.
Midwestern states are struggling to contain a virulent strain of bird flu having doomed millions of turkeys and chickens. Iowa has struggled with avian influenza outbreaks in backyard flocks in Pottawattamie and Warren counties, and at a Taylor County operation with about 916,000 pullets, or young laying hens.
Fiji: Leptospirosis
Two people in the Western Division have passed away from leptospirosis, bringing the total number of deaths from leptospirosis to 29 this year. A total of 21 deaths were recorded in the Western Division, 3 in the Central, and 5 in the North. Permanent secretary for health Dr. James Fong says a 23 year old woman from Ba died on March 19, and a 13 year old child from Nadi died on March 11.
Dr. Fong says there have been 1,394 lab-confirmed cases of leptospirosis this year, and a notable decrease in cases has been noted in the last week, with the weekly case number now below the national outbreak alert threshold.
The leptospirosis bacteria spreads to humans through the urine of infected animals, such as cows, pigs, rats, and dogs. To reduce individual risk, it is important to understand that exposure to animals, soil, mud, and floodwaters during work or recreational activities increases risk of infection.
Important prevention measures include wearing full covered footwear at all times when going outdoors, avoiding wading or swimming in flooded waters, using clean fresh water to wash up after exposure to muddy waters, and keeping all food and drinks covered and away from rats. For workplaces, practice good personal hygiene at all times, cover cuts and wounds well, and use protective equipment, especially footwear when in flooded and/or muddy areas.
Qatar: MERS
The Ministry of Public Health (MoPH) has declared that a case of Middle East respiratory syndrome (MERS) has been confirmed. The case is a male resident aged 50 years. The patient has been admitted to the hospital to receive the necessary medical care in accordance with the national protocol to deal with confirmed or suspected cases of the disease. He had direct contact with camels. All the contacts of the patient are free of symptoms and will be monitored for 14 days as per the national protocols.
The MoPH, in cooperation with the Ministry of Environment, is taking all necessary preventive and precautionary measures to control the disease and prevent it from spreading.
MERS is a viral respiratory disease that is caused by one of the coronaviruses (MERS-CoV), but it differs from the novel coronavirus known as COVID-19. Both viruses differ in terms of the source of infection, mode of transmission, and the disease severity.
The MoPH calls on all members of public, and especially people with chronic diseases or those with immunodeficiency disorders, to adhere to public hygiene measures. This includes washing the hands regularly with water and soap, using hand sanitizers, as well as avoiding close contact with camels and seeking medical advice when experiencing symptoms of fever, cough, sore throat, or shortness of breath.
Spain: Trypanosomiasis
The Barcelona Institute for Global Health (ISGlobal) has led an analysis in which it has discovered that more than 50 000 people in Spain live with the parasitic Chagas disease [South American trypanosomiasis]. Of these, 613 are minors, the center supported by La Caixa Foundation said in a statement March 25.
The journal 'Travel Medicine and Infectious Disease' has published the results of the analysis on the infection caused by the parasite Trypanosoma cruzi, which is endemic in 21 countries in Central and South America. The parasite is transmitted mainly by the bite of the vinchuca insect, the vector.
However, due to migratory flows, the disease has also become common in non-endemic areas, where it is transmitted mainly from mother to child -- congenital Chagas -- and, to a lesser extent, through blood transfusions and organ transplants.
Spain is the country with the highest burden of the disease outside the Americas "due to the high number of Latin American migrants", although researchers have noted that Chagas disease also exists in other European countries such as Italy and Switzerland.
In fact, they have warned that few countries have implemented "adequate" control measures in blood and organ banks, as well as in antenatal care services, despite the risk of disease transmission.
Pakistan: Lumpy Skin Disease
Only 5 districts out of 29 in Sindh have not yet reported a single case of lumpy skin disease (LSD) that has so far killed 250 cows. Its outbreak in Karachi got aggravated due to misuse of live virus vaccines.
This was stated by the provincial livestock director general during a question-answer session at a seminar organized by the Association of Molecular and Microbial Sciences at Dow International Medical College, Ojha campus, March 24.
Explaining how LSD spread in cattle in the city, livestock DG Dr. Nazeer Kalhoro said dairy farmers, out of despair, made an indiscriminate use of live virus vaccines apparently without consulting a qualified veterinarian. These LSD vaccines were reportedly smuggled in from South Africa.
Live virus vaccines carry risks and should be used with caution. "Most dairy farmers in Karachi had a few infected animals with signs of the disease which led them to believe that the rest of their herd was safe and could be vaccinated. However, this was not the case," he noted.
Their other animals, Dr. Kalhoro pointed out, were also infected but were not showing signs either due to their good immune system or because the virus was yet to complete its incubation period. These animals also developed full-blown disease when the live virus in the vaccine got combined with the pathogen already present in their bodies.
Scotland: Anthrax
An uninhabited Scottish island where government scientists once conducted experiments with Anthrax has been hit by a fire. People who saw the fire on Gruinard Island from the mainland described the scene as "apocalyptic". They said the uninhabited island off Scotland's north-west coast was ablaze from "one end to the other" on March 26.
The island was used for germ warfare experiments during World War Two. It was declared free of Anthrax by the Ministry of Defense in April 1990.
Kate Gearing and her daughter Nessie were at their home in Aultbea when they saw a glow in the sky. They could smell the smoke in the air from their house which is about 5 miles from the island. They got into the car to investigate, and drove along the coast until they saw the fire, which they said you couldn't miss. Nessie took pictures from the area around Gruinard beach. The 25-year-old described the scene as "apocalyptic," and said it looked like "hell fire". "There was a string of flames around the whole circumference of the island," she said.
Kate said the island off the north west coast was lit up by flames from one end of the island to the other. The most distressing thing about the scene, Kate said, was the noise of birds, which she thinks were nesting on the island. "We could hear birds crying, screaming, and then suddenly there was silence - but the flames went on, it was awful." She said thankfully the island is far away enough from shore not to be a danger to the mainland.
Tunisia: Foot and Mouth Disease
Earlier this year, a virology laboratory in Tunisia received the oral samples of cows suspected by veterinarians of having foot-and-mouth disease (FMD). Within days of submitting the samples to a genetic sequencing service, Soufien Sghaier, a virologist at the Virology Laboratory at the Institute of Veterinary Research of Tunisia (IRVT), received results that helped confirm the circulating strain of FMD. Sghaier was able to notify veterinary authorities to implement control measures to prevent the disease from spreading. The timely confirmation was made possible by the IAEA, in partnership with the Food and Agriculture Organization of the United Nations (FAO), which facilitates the sequencing service and provides the training needed to process the results.
"We received the sequencing results from an FMD suspicion very quickly. Samples were sent to a laboratory in Berlin on Friday, and we received the sequencing results on Monday afternoon," Sghaier explained. "This allowed us to perform an analysis to identify the specific strain of FMD in a record time: less than a week from receipt of samples. By Tuesday, we sent the report on the FMD strain to the veterinary authorities." The strain of FMD needs to be identified to select or develop an effective vaccine.
Genetic sequencing is important to determine if a circulating disease is endemic -- or typically found in a certain area -- or transferred from another region. "Genetic sequencing can help to understand which cluster a pathogen -- an organism that causes disease -- belongs to and which vaccine is effective against the pathogen," said Ivancho Naletoski, animal health officer at the Joint FAO/IAEA Centre of Nuclear Techniques in Food and Agriculture. "Sequencing is also important in helping to identify the patterns of mutation of the pathogens." Based on genetic sequencing, a phylogenetic tree can be created, which maps the lineage of a species.
India: Japanese Encephalitis
The East Singhbhum district health office has issued a Japanese encephalitis and swine flu alert in the city and its outskirts after confirmation of one Japanese encephalitis case and 2 of swine flu.
The health official said that, as per protocol of the health department, they have issued a health alert and sent letters to all 30 private and government hospitals in the city and its outskirts to monitor patients with encephalitis symptoms and inform for sample collection within 24 hours in the event of any fresh case.
Japanese encephalitis is caused by flavivirus, carried by the Culex mosquito, and affects the membranes around the brain. Most Japanese encephalitis virus infections are mild (fever and headache) or without apparent symptoms, but approximately one in 200 infections is characterized by rapid onset of high fever, headache, neck stiffness, disorientation, coma, seizures, spastic paralysis, and death.
United States: Shigellosis
An update from Humboldt County health leaders regarding the bacterial infection outbreak that's been plaguing the area. Officials are indicating they have now confirmed 4 additional shigellosis cases in Eureka in recent days. 2 of those confirmed cases required hospitalizations. So far, it's believed there have been several dozen cases.
Health experts initially thought the outbreak was tied to a pair of local laundromats where infected individuals washed clothes. Cases have since spread throughout the Eureka 101 Corridor and beyond. Health experts say washing your hands and practicing good hygiene is the best way to protect yourself from Shigella.
Australia: Japanese Encephalitis
On March 25, Agriculture Victoria announced it had again detected Japanese encephalitis virus at one new piggery.
They said the detection is the result of national surveillance efforts to identify new cases and determine the extent and spread of the disease and the source of its introduction.
Japanese encephalitis has also been confirmed in piggeries in New South Wales, Queensland, and South Australia.
Agriculture Victoria is also working closely with both the pig and horse industries in response to the disease.
A number of suspected cases are under investigation.
Detections have been confirmed at a total of 15 properties in the Wangaratta, Moira, Greater Shepparton, Campaspe, Gannawarra, Loddon, Greater Bendigo, and Northern Grampians local government areas.
Agriculture Victoria's incident management team continues to work closely with industry, conducting surveillance activities, and providing advice and information to farmers, livestock, and horse owners.
March 24, 2022
Scotland: Avian Influenza
A backyard flock of mixed poultry near Collieston, Scotland has tested positive for highly pathogenic avian influenza H5N1 -- commonly known as 'bird flu'.
To limit the risk of spread of the disease, the remaining birds at the premises have been humanely culled and a 2 mile protection zone and 6 mile surveillance zone have been declared around the infected premises.
Within these zones, a range of different controls are now in place. These include restrictions on the movement of poultry, carcasses, eggs, used poultry litter and manure, and restrictions on bird gatherings.
Scotland's Chief Veterinary Officer Sheila Voas said: "We have already made clear that all bird keepers -- whether major businesses or small keepers with just a few birds -- must ensure that their biosecurity is up to scratch to protect their birds from disease and prevent any contact between their birds and wild birds.
"Keepers who are concerned about the health or welfare of their flock should seek veterinary advice immediately. Your private vet, or your local Animal and Plant Health Agency office, will also be able to provide practical advice on keeping your birds safe from infection.

United States: Equine Herpesvirus
On March 5 California Department of Food and Agriculture (CDFA) officials updated their statistics for equine herpesvirus (EHV).
Orange County has experienced 3 premises with EHV, the 3rd of which shows no epidemiological link to the previous 2.
At Orange County premises No. 1, only 1 horse was confirmed with EHM and 18 with fever only.

Orange County premises No. 2 had 2 horses confirmed with equine herpesvirus myeloencephalopathy (EHM, the neuropathogenic strain of EHV-1). There are 6 horses confirmed with fever or mild signs only.
In Los Angeles County, 1 horse was confirmed with EHM.
In San Mateo County, 2 more horses displaying fever only were confirmed with EHV-1 and are isolated at the index premises, an event venue in Riverside County. As of March 5, 3 horses in San Mateo County were confirmed with EHM, and 30 with fever only (EHV-1).
In Riverside County, where the outbreak began at an event in late January, 3 more horses at the index premises, but not in the index quarantine barn, were confirmed positive for EHV-1 after displaying fever without neurologic signs. As of March 5, 3 horses had been confirmed with EHM and 30 with EHV-1.
Australia: Japanese Encephalitis
NSW Health is urging the community to stay vigilant and take precautions against mosquito bites after an 8th NSW resident has been confirmed to have Japanese encephalitis (JE). The confirmed case is a man aged in his 50s from the Temora area in the Riverina region. He was treated in hospital before being discharged and is continuing to recover in the community.
With the evolving nature of the JE situation across the country, NSW Health is transitioning the way it reports cases in NSW residents from March 18. In line with national reporting structures, NSW Health will finalize any new cases and locations each day at 4pm, and report them the next day on the NSW Health website.
The JE virus is spread by mosquitoes and can infect animals and humans. The virus cannot be transmitted between humans, and it cannot be caught by eating pork or other pig products.

United States: Avian Influenza
The highly pathogenic avian influenza has been found in an American white pelican and other birds across at least 4 counties. The Missouri Department of Conservation (MDC) confirmed a case in Clay County using the National Veterinary Services Lab in Ames, Iowa. The University of Missouri Veterinary Medical Diagnostic Lab confirmed positive birds in Pettis, Randolph and St. Charles counties.
Highly pathogenic avian influenza, commonly referred to as bird flu, was first confirmed 3 Mar 2022 in a poultry flock in Stoddard County and a backyard flock in Bates County 4 Mar 2022, according to MDC.
"Avian influenza viruses naturally occur in bird populations, especially waterfowl, shorebirds, and domestic birds such as chickens and turkeys," said Sherri Russell, MDC State Wildlife Veterinarian, via a news release. "We have been monitoring this strain since early January, when it was detected in the eastern United States and Canada."
The virus spreads as birds along the North American flyways intermingle with infected birds from other parts of the world, according to MDC. Viruses are transmitted through fecal droppings, saliva and nasal droppings among birds.
"There is a risk for spillover from wild birds into domestic poultry and then back again from poultry to wild birds, resulting in further spread," MDC stated. MDC is working with the Missouri Department of Agriculture and other state and federal agencies to monitor the spread of the virus.
South Africa: Foot and Mouth Disease
The Department of Agriculture in KwaZulu-Natal has placed a total ban on the movement of livestock in northern parts of the province following an outbreak of foot-and-mouth disease (FMD). The department says it is trying to curb the spread which has been detected in 3 regions. KwaHlabisa, KwaNongoma and Mtubatuba are among the most affected.
Dr. Thembelihle Sikhakhane from the province's department of agriculture's veterinary services said the disease is easily spread when people move their livestock. "We are having an outbreak of FMD and it's spreading and areas that are of concern [are] Hlabisa, Nongoma area[s]. We are currently vaccinating. The biggest spreader of FMD is moving cattle from one area to another, that's why we are in this problem.
"We've been asking our people not to move their livestock, but people have been paying lobolas. The case in point with the Hlabisa outbreak is because someone received a lobola payment, that's why (there is) foot-and-mouth in Hlabisa. We now have a massive problem where everybody is affected; people should not be moving animals," Sikhakhane said.

India: Anthrax
A tusker and a female guar were found dead at Anaikatti and Naickenpalayam, respectively, in Coimbatore forest division in a gap of a couple of hours. The frontline forest staff spotted the carcass of the tusker near the Salim Ali Centre of Ornithology and Natural History at 11.30am on Thursday, when they were on rounds in the Thadagam reserve forest area.
A forest officer said the elephant might have died of anthrax. "The forest veterinary officer has collected samples from the elephant that is aged around 30 years and sent the same to the forensic science laboratory to confirm whether it's a case of anthrax. If the results are positive, the carcass will be burned inside the reserve forest." The officer said they had deployed 8 frontline staff in the reserve forest to prevent other animals from going near the elephant carcass.
The female guar was, meanwhile, found dead at Naickenpalayam north beat of Periyanaickenpalayam forest range on March 16..
"The frontline staff and anti-poaching watchers with Periyanaickenpalayam forest range were on rounds when they came across the carcass of the guar [gaur] with injuries to its foot and hind legs. The animal was not able to walk and couldn't eat," the officer said.

Greece: Avian Influenza
An operation to collect hundreds of dead Dalmatian pelicans killed by avian flu was under way in northern Greece on [Sat 19 Mar 2022], around the Prespa Lakes, as well as Lake Heimaditida, Kastoria, and Zazari. The operation to remove the dead birds, many of them in their nests, took place under stringent biosecurity measures to minimize further contamination.
Speaking to state-run news agency Amna, deputy mayor of Amynteos Eleni Gyriki, said that 80 dead birds had been collected by fishermen going out on their boats, and placed in special bags to minimize transmission of the virus in order to be incinerated.
An operation by a private company on Little Prespa Lake has collected so far 748 dead pelicans in the 4 days of operation. This is where the problem is most acute, as the reed beds in the lake house one of Europe's largest colonies of pelicans. The aim is to contain the [situation] before the second wave of migrating birds arrives at the lake in April.
The first dead birds were located in mid-February and the phenomenon "exploded" quickly. In the first 2.5 weeks 574 dead pelicans and another 24 in Lake Heimaditida were recorded, the director of the Prespa Protection Company, Myrsini Malakou, told Amna [news agency] beginning of March [2022]. She said that a total of 70 dead pelicans were found last year [2021].
Authorities in Greece have been on alert this year due to the death of more than 6,000 cranes in Israel, at the end of the year [2021], from bird flu. "In the measures we make every year in the colonies, using drones and telescopes, we saw the dead birds, in a number that has never been seen before," Malakou said.
United States: Avian Influenza
Federal laboratory testing has confirmed a highly pathogenic H5N1 avian influenza (HPAI) case at a commercial broiler farm in Kent County, Delaware. Previously, cases had been found on the northern edge of the nation's largest broiler chicken area.
This avian influenza detection follows previously announced cases on farms in New Castle County and Cecil and Queen Anne's Counties, Maryland. Since the cases were found, federal and state partners have expanded their surveillance sampling and testing regimen.
State officials have quarantined all affected premises, and the birds have been killed to prevent the spread of the disease. Birds from affected flocks will not enter the food system.
Avian influenza is a highly contagious airborne respiratory virus spreading quickly among birds through nasal and eye secretions and manure. The virus can be spread in various ways from flock to flock, including by wild birds, through contact with infected poultry, by equipment, and on the clothing and shoes of caretakers. The virus affects poultry, like chickens, ducks, turkeys, and wild bird species such as ducks, geese, shorebirds, and raptors.
Pakistan: Leishmaniasis
An outbreak of leishmaniasis [cutaneous], a skin disease caused by the bite of a sandfly, has been reported in parts of the Balochistan province. "Over 8,000 cases of the disease from different parts of the province have so far been reported in a few days to the health department," director general health Balochistan Dr Noor Mohammad Qazi told the media on Monday [21 Mar 2022]. He said the number of leishmaniasis patients was expected to rise in the coming days due to the non-availability of preventive injections.
The glucantime injection is used against the disease, but the Health Department was unable to purchase it as it was not registered by the Drug Regulatory Authority Pakistan, he added. He said leishmaniasis was endemic in the provinces of Sindh and Balochistan and some other parts of the country. It was reported in Sindh for the first time in 2000, and since then its cases have been mounting. "We have contacted the World Health Organization and Médecins Sans Frontières (MSF) for the immediate supply of the injections, and they have agreed to extend all-out support," he added.
The DG Health said 6 districts of Quetta, Qilla Abdullah, Qilla Saifullah, Jaffarabad, Zhob, and Kech were at high risk. Some 2317 cases of leishmaniasis were reported from Quetta, 1774 from Jaffarabad, 1906 from Qilla Abdullah, and 1649 from Kech district.
The health authorities of the districts have been directed to submit the data of patients so that the department could plan effective interventions, Dr. Asfand Yar, WHO provincial officer in Balochistan told a meeting chaired by DG Health Balochistan on the leishmaniasis outbreak in the province. "We are going to establish 3 medical centers each in Qilla Saifullah, Loralai, and Zhob districts to provide treatment to the affected people," he said. They had also planned to set up such medical centers in Naseerabad, Lasbella, and Kech districts as well.
March 12, 2022
CEEZAD Director receives KSU Biosecurity
Research Institute endowed professorship
The Director of the Center of Excellence for Emerging and Zoonotic Animal Diseases (CEEZAD; www.ceezad.org) has been named recipient of Kansas State University's first Biosecurity Research Institute endowed professorship.
Dr. Juergen A. Richt, who in addition to his duties at CEEZAD is also the Regents and University Distinguished Professor at Kansas State University, is one of two recipients of the award, which was announced on March 11.
The professorships were established through a gift by Marty Vanier and her late husband Bob Krause for faculty members who are or will be performing a significant portion of their scholarly work at the Biosecurity Research Institute, or BRI. Nominees must also have demonstrated global research impact in their fields.
Barbara Valent, a KSU professor of plant pathology, was also named recipient of the award.
"The BRI endowed professorships allow us to both leverage and extend our unique assets and scientific leadership in biosecurity and biodefense research," said David Rosowsky, K-State vice president for research. "Drs. Valent and Richt are spectacular examples of our human assets, both eminent scholars and both internationally renowned in their respective fields. We are proud to recognize them with these inaugural BRI endowed professorships and are grateful to Marty and Bob for their vision and generosity."
Richt investigates zoonotic, emerging and transboundary diseases of livestock, focusing mainly on viral diseases. His work has led to strategies to identify, control and/or eradicate pathogens with significant impact on veterinary medicine, human health and food security. His recent work focuses on the establishment of preclinical animal models for SARS-CoV-2 to evaluate the efficacy of vaccines and therapeutics for COVID-19.
"We are delighted for Dr. Jürgen Richt to be selected as one of the two inaugural BRI professors," said Bonnie Rush, Hodes family dean of the College of Veterinary Medicine. "He is a leader in containment research, directing two major emerging infectious disease centers at K-State. In 2020, Dr. Richt redirected his work to strengthen our understanding of the pathophysiology and disease transmission of COVID-19. The BRI professorship will further enable Dr. Richt to perform the advanced, high-containment research that is essential for protecting and enhancing human and animal health on a global scale."
"Being selected among the first recipients of this award is deeply meaningful because of the reputation of the BRI and its staff within the scientific community," Richt said. "Existence of the BRI first and foremost demonstrates Kansas State University's tangible commitment to the food animal health science in particular, to the sciences in general and most broadly to the concept of critical-needs research."
The Biosecurity Research Institute at Pat Roberts Hall on the K-State Manhattan campus is a unique biocontainment research and education facility that has helped K-State become a national leader in biodefense research. The BRI is the home of comprehensive infectious disease research to address threats to plant, animal and human health, including food-borne pathogens.
March 8, 2022
New paper studies transmission of ancestral SARS-CoV-2 and its Alpha variant in white-tailed deer
The Director of the Center of Excellence For Emerging and Zoonotic Animal Diseases (CEEZAD; www.ceezad.org) is the senior author of a recently published paper researching the infection and transmission capabilities of both the ancestral SARS-CoV-2 virus and its alpha variant in white-tailed deer..
The paper, by Dr. Juergen A. Richt, who in addition to his duties at CEEZAD is also the Regents and University Distinguished Professor at Kansas State University, and other CEEZAD-affiliated researchers, was published in Emerging Microbes Infections.
Recent history involving SARS-like coronavirus outbreaks have demonstrated the significant role of intermediate hosts in viral maintenance and transmission. Several studies have indicated that deer are susceptible to SARS-CoV-2 infection, with white-tailed fawns shown to be susceptible to SARS-CoV-2.
CEEZAD scientists investigated the susceptibility and transmission of SARS-CoV-2 in adult white-tailed deer. They also examined the competition of two SARS-CoV-2 isolates, representatives of the ancestral lineage A and the alpha variant of concern (VOC)) through co-infection of white-tailed deer.
Results demonstrate that adult white-tailed deer are highly susceptible to SARS-CoV-2 infection and can transmit the virus through direct contact as well as vertically from doe to fetus. Additionally, they determined that the alpha VOC isolate of SARS-CoV-2 outcompetes the ancestral lineage A isolate in WTD, as demonstrated by the majority presence of the alpha VOC in nasal and oral swabs and in tissues of principal infected deer and contact animals.
CEEZAD/Kansas State University researchers who were co-authors with Dr. Richt included Konner Cool, Natasha Gaudreault, Igor Morozov, Jessie D. Trujillo, David Meekins, Chester McDowell, Dashzeveg Bold, Taeyong Kwon, Velmurugan Balaraman, Daniel Madden, Bianca Libanori Artiaga, Roman Pogranichniy, Gleyder Roman-Sosa, and Jamie Henningson.
Other co-authors included Udeni Balasuriya and Mariano Carossino, both of Louisiana State University, Dana Mitzel and William Wilson, both of the National Bio and Agro-defense Facility, and Adolfo Garcia-Sastre of the Icahn School of Medicine at Mount Sinai Hospital.
The full study can be read by following this link: Infection and transmission of ancestral SARS-CoV-2 and its alpha variant in pregnant white-tailed deer (nih.gov)
March 7, 2022
Finding of link between CoV-2 virus in deer and humans
is getting international attention
Research on the zoonotic transmission of the CoV-2 virus by a scientific team from Canada is getting international attention.
The March edition of National Geographic contains an article reporting on research raising the likelihood of the direct spread of the virus from Canadian white-tailed deer to a human. Dr. Juergen A. Richt, director of Center of Excellence For Emerging and Zoonotic Animal Diseases (CEEZAD; www.ceezad.org) and the Regents and University Distinguished Professor at Kansas State University, was asked to comment on the article.
The article (https://www.biorxiv.org/content/10.1101/2022.02.22.481551v1.full) published in the non-peer reviewed journal BioRxiv reports the first known instance of a COVID-19 spillover from a white-tailed deer—a common species throughout North America—into another species, in this case a human.
The National Geographic article, written by Dina Fine Marden, noted that a team of 32 government and academic researchers concluded in the article that in late 2021, more than a dozen white-tailed deer in Ontario, Canada had been infected with a SARS-CoV-2 virus that had a constellation of "mutations that had not been previously observed among SARS-CoV-2 lineages." Further analysis revealed that a person who had close contact with the white-tailed deer in Ontario was infected with the same variant of coronavirus.
In the scientific manuscript on which the National Geographic article was based, the researchers hold out the possibility that the virus was transmitted first through another host species, such as a mink. They add, however, that the genomic analysis suggests direct transmission from deer to human is "the most likely scenario."
Here is a link to the full article in National Geographic.
https://www.nationalgeographic.com/animals/article/first-potential-case-of-deer-to-human-covid-transmission-found
February 25, 2022
Pathogenicity of Avian Influenza explored in new paper co-authored by CEEZAD Director
The Director of the Center of Excellence For Emerging and Zoonotic Animal Diseases (www.ceezad.org) is co-author of a newly published paper researching the emergence, evolution and pathogenicity of the Influenza A(H7N4) virus in shorebirds in China..
Dr. Juergen A. Richt, who in addition to his duties at CEEZAD is also the Regents and University Distinguished Professor at Kansas State University, was among the co-authors of the paper, which was published in the February edition of the Journal of Virology
The paper is the result of a 2-year surveillance study of influenza A viruses in migratory birds designed to understand the subsequent risk during the migratory seasons in Dandong Yalu River Estuary Coastal Wetland National Nature Reserve, Liaoning Province, China. That area is a major stopover site on the East Asian-Australasian flyway.
Researchers isolated 27 influenza A viruses with multiple subtypes, including H3N8 (n = 2), H4N6 (n = 2), H4N7 (n = 2), H7N4 (n = 9), H7N7 (n = 1), H10N7 (n = 7), and H13N6 (n = 4). Particularly, a novel reassortant influenza A(H7N4) virus was first identified in a woman and her backyard poultry flock in Jiangsu Province, China; this virus could pose a serious threat to public health.
In the article, the researchers describe the genetic characterization and pathogenicity of the nine influenza A(H7N4) isolates in more detail. Phylogenetic analysis indicated that complex viral gene flow occurred among influenza viruses from Asian countries. They also demonstrated a similar evolutionary trajectory of the surface genes of the A(H7N4) isolates and Jiangsu human-related A(H7N4) viruses.
The A(H7N4) isolates exhibited differing degrees of virulence in mice, suggesting a potential risk to other mammalian species, including humans. They also revealed multiple mutations that might affect viral virulence in mice.
The report highlights the importance and need for the long-term surveillance of avian influenza viruses in migratory birds combined with domestic poultry surveillance along migratory routes and flyways and, thereby, the development of measures to manage potential animal and public health threats.
Particularly, the researchers found that the H7 subtype avian influenza viruses, which are capable of infecting humans, and the H7 subtype low pathogenicity avian influenza viruses are capable of mutating into highly pathogenic avian influenza; therefore, they pose a serious threat to public health.
The full study can be read by following this link: https://pubmed.ncbi.nlm.nih.gov/34787451/
CEEZAD researchers publish article exploring gains in Rift Valley Fever virus research
Scientists at the Center of Excellence For Emerging and Zoonotic Animal Diseases (www.ceezad.org) are among co-authors of a new paper highlighting recent research into the Rift Valley Fever virus...
Dr. Juergen A. Richt, who in addition to his duties at CEEZAD is also the Regents and University Distinguished Professor at Kansas State University, was among the co-authors of the paper, which was published in the February edition of the Journal of Virology. CEEZAD researcher Velmurugan Balaraman also contributed to the work.
Rift Valley fever virus (RVFV) is an arbovirus that was first reported in the Rift Valley of Kenya. It causes significant disease in humans and livestock.
RVFV is a tri-segmented, negative-sense RNA virus consisting of a L, M, and S segments with the M segment encoding the glycoproteins Gn and Gc. Host factors that interact with Gn are largely unknown.
To this end, two viruses containing an epitope tag (V5) on the Gn protein in position 105 or 229 (V5Gn105 and V5Gn229) were generated using the RVFV MP-12 vaccine strain as a backbone. The V5-tag insertion minimally impacted Gn functionality as measured by replication kinetics, Gn localization, and antibody neutralization assays.
A proteomics-based approach was used to identify novel Gn-binding host proteins, including the E3 ubiquitin-protein ligase, UBR4. Depletion of UBR4 resulted in a significant decrease in RVFV titers and a reduction in viral RNA production.
The full study can be read by following this link: https://pubmed.ncbi.nlm.nih.gov/35032865/
K-State research helping protect zoo animals from SARS-CoV-2 spread
Friday, Feb. 11, 2022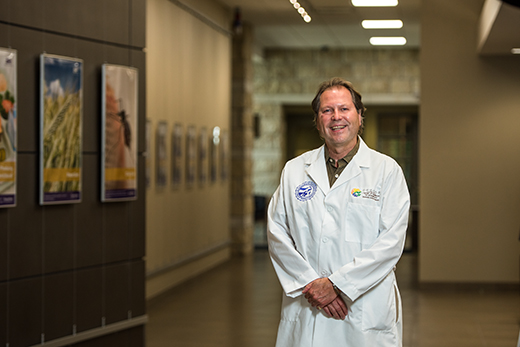 Jürgen A. Richt, director of K-State's Center for Excellence For Emerging and Zoonotic Animal Diseases and the Regents distinguished professor in the university's College of Veterinary Medicine, recently tested an animal vaccine for safety and efficacy against SARS-CoV-2. |
Download this photo.
MANHATTAN —

Testing done by Kansas State University's Center of Excellence for Emerging and Zoonotic Animal Diseases is helping protect more than 100 mammalian species of animals in zoos around the world from SARS-CoV-2 infections.

Zoo animals are receiving the experimental vaccine developed by leading animal health company Zoetis. The U.S. Department of Agriculture authorized use of the experimental vaccine on a case-by-case basis to help protect mammals living in zoos. Zoetis has donated the vaccine to the zoos, which have been using it since summer 2021.

A team at K-State's Center of Excellence For Emerging and Zoonotic Animal Diseases, or CEEZAD, led by Jürgen A. Richt, tested the vaccine for safety and efficacy against SARS-CoV-2 infection. Richt is director of CEEZAD and the Regents distinguished professor in the university's College of Veterinary Medicine.

"This developmental work on a COVID-19 vaccine for animals is an important step to protect susceptible animal species against SARS CoV-2 because research has shown that SARS-CoV-2 can be a threat to segments of the pet, wildlife and zoo animal populations," Richt said. "We know that domestic and large cats and many zoo animals are highly susceptible to SARS-CoV-2, probably acquiring the virus from their handlers."

Zoetis initially began its work on a COVID vaccine for animals in February 2020 when the first dog was confirmed to be infected with SARS-CoV-2 in Hong Kong. Global animal health authorities have thus far determined there is no need for a COVID vaccine for household pets.

Richt said doing these studies was both a great opportunity and a serious responsibility.

"These types of vaccines can be of significant assistance in combatting the disease and the spread of the SARS-CoV-2 among susceptible animal populations, including endangered animal species," Richt said. "Members of my laboratory were delighted to be given the opportunity to play such an important role in the evaluation of this vaccine and contribute to saving endangered animals worldwide."

Vaccine testing at K-State took place at the university's Biosecurity Research Institute, a biocontainment research and education facility.