The Center of Excellence for Emerging and Zoonotic Animal Diseases (CEEZAD) at Kansas State University was established in 2010 to help protect the nation's agricultural and public health sectors against high-consequence foreign animal, emerging and zoonotic disease threats. CEEZAD has four principal missions:
Development of novel, safe, efficacious and DIVA-compatible vaccines for prevention and control of high-impact emerging and zoonotic diseases that can be manufactured in the U.S.
Development and expansion of technologies and platforms for laboratory and point-of-need pathogen detection.
Development of models to predict high-consequence disease behavior in the U.S. to aid prevention or outbreak control.
Development of education and training programs for students, veterinarians, first responders and researchers in high-impact animal diseases and animal emergencies.
---
News/Events Highlights
March 26, 2020
CEEZAD team develops effective vaccine against Epizootic Hemorrhagic Disease in white-tailed deer
Researchers at the Center of Excellence for Emerging and Zoonotic Animal Diseases (CEEZAD), in collaboration with the USDA-ARS-Arthropod-Borne Animal Disease Research Unit (ABADRU), have developed a subunit vaccine that is effective against Epizootic Hemorrhagic Disease in white-tailed deer.
Epizootic Hemorrhagic Disease Virus (EHDV) is an arthropod-transmitted virus in wild and domestic ruminants. In North America, it is especially prevalent among white-tailed deer, although it has also been reported in cattle.
There is no USDA-licensed commercially available EDHV vaccine in North America.
The CEEZAD-ABADRU research team included Sun Young Sunwoo, Leela Noronha, Igor Morozov, Jessie Trujillo, In Joong Kim, Erin Schirtzinger, Bonto Faburay, Barbara Drolet, Kinga Urbaniak, D. Scott McVey, David Meekins, Mitchell Palmer, Velmurugan Balaraman, William Wilson and Juergen Richt.
The study involved production of recombinant VP2 (rVP2), the outer capsid proteins of EHDV, in a bacolovirus expression system. Mice and cattle vaccinated with rVP2 from EHDV-2 or EHDV-6 rVP2 produced homologous virus-neutralizing antibodies.
Captive white-tailed deer received two doses of EHDV-2 rVP2 or sham vaccine, then were challenged with wild-type EHDV-2 at 30 days post-prime vaccination.
Dr. Richt, from CEEZAD, said "this is the first time an efficacious and DIVA-compatible subunit vaccine for EHDV is available." He said the hope is that "our licensing partner can produce this vaccine as a vehicle to protect deer from this devastating disease."
Dr. Wilson, from ABADRU, noted that the tests demonstrated "100 percent protection (of VP2 vaccinated animals) from infection by the same type of EHDV virus." None of the rVP2-vaccinated deer developed clinical disease, no viral RNA was detected in their blood or tissues, and no EHDV-induced lesions were observed.
Sham-vaccinated deer developed clinical disease with viremia and typical EHD vascular lesions.
The test demonstrates the effectiveness of the EHDV rVP2 subunit vaccine in providing protective immunity from EDHV infection. The results also demonstrate its potential to serve as an effective tool in preventing clinical EHD and reducing virus transmissions.
---
March 25, 2020
CEEZAD representatives shown in DHS video on recent COE Summit
Two representatives of the Center of Excellence for Emerging and Zoonotic Animal Diseases (CEEZAD) are featured in a recently released Department of Homeland Security video on the 2019 Centers of Excellence Summit outside Washington, D.C.
Stephanie Hober, CEEZAD Program Manager, and Willy Valdivia, CEO of Orion Integrated Biosciences – a CEEZAD-affiliated bioscience research corporation – are pictured in the three-minute video discussing topics and accomplishments of the COE summit.
Mrs. Hober is among those who discuss the Summit's importance in integrating and coordinating the work of the various DHS-sponsored Centers of Excellence. At the summit, she notes in the video, "we get to meet a lot of different stakeholders and federal partners."
The Summit was conducted at the George Mason University campus in Arlington, Va., just outside Washington. The event connected more than 500 subject matter experts from 350 different academic, industry, and government organizations and more than 40 students.
In his opening remarks, DHS Office of University Programs Director Matt Coats addressed the two central themes of the Summit– gray zone threats, and challenges posed by today's hyper-connected world. Coats emphasized the role of COEs being at "the tip of the spear" of innovation as DHS evolves to address its current and emerging challenges.
You can view the full video at the link below:
https://www.youtube.com/watch?v=NjkeiBV43lc#action=share
---
March 2, 2020
APPLICATION DEADLINE EXTENDED for the CEEZAD BSL-3 Training/Transboundary Animal Disease Summer Program!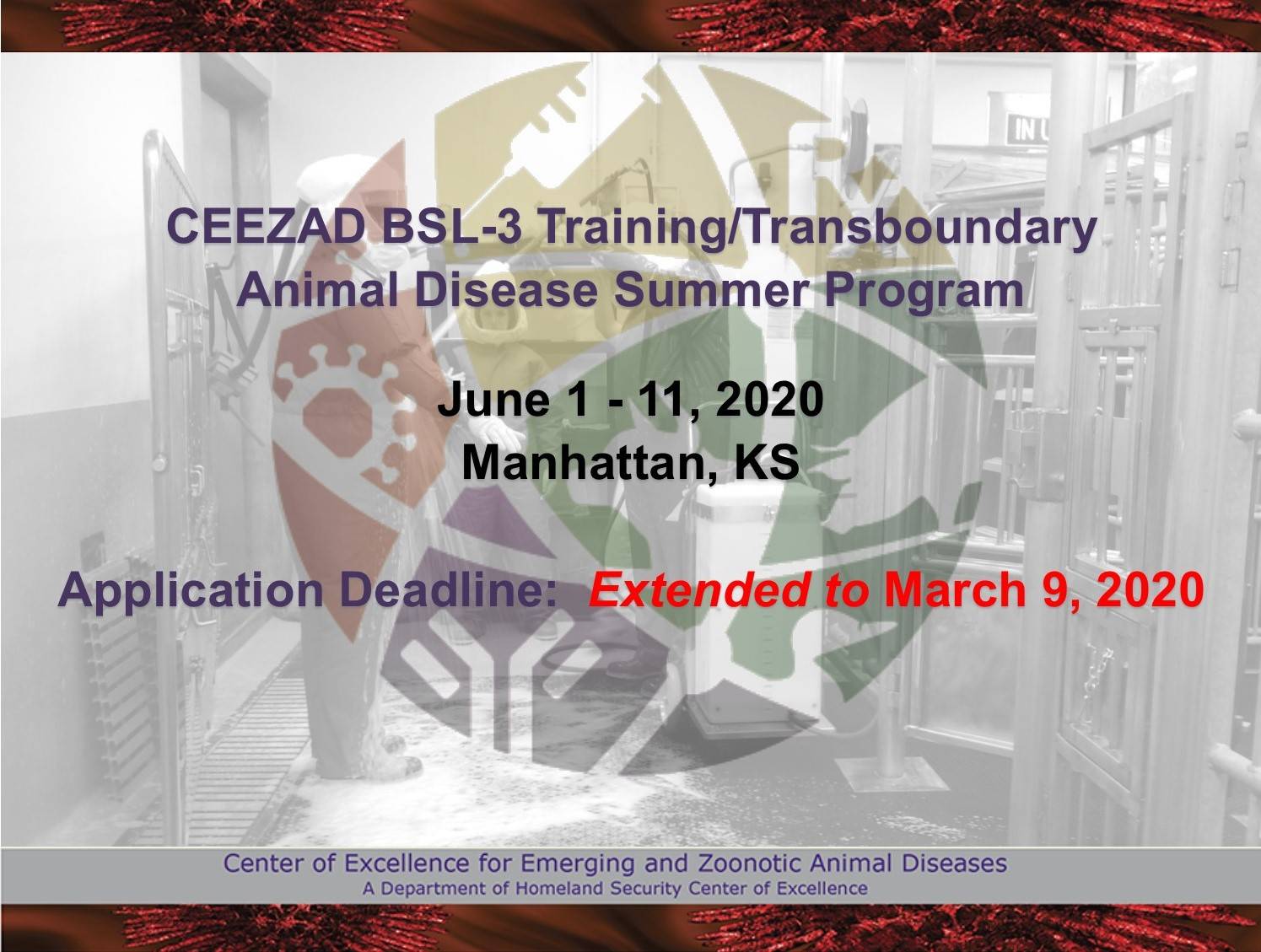 ---
February 3, 2020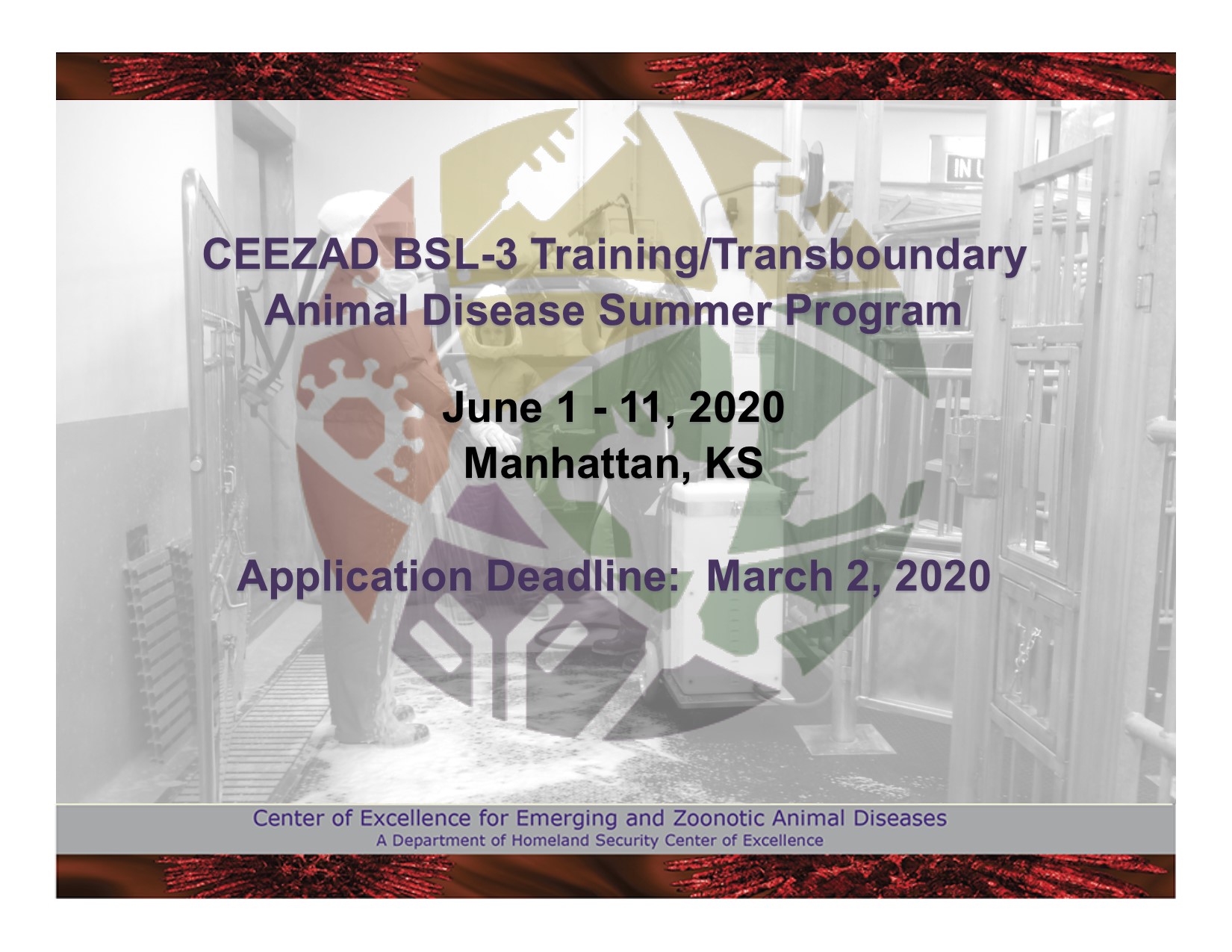 June 1 - 11, 2020
The CEEZAD BSL-3 Training/Transboundary Animal Diseases Summer Program is designed to introduce graduate, DVM and upper-level undergraduate students to high-containment training and to provide current practical and scientific information on select high consequence transboundary and zoonotic diseases.
The program is funded through a task order with the Department of Homeland Security and is directed at highly motivated students with a demonstrated career interest in transboundary and zoonotic diseases of animals. The two-week program consists of one week of intensive, hands-on and classroom training at the Biosecurity Research Institute (BRI) at Kansas State University followed by a second week of site visits to area industry partners and seminars and lectures from national and international subject matter experts in containment research and transboundary animal diseases.
The BRI, located adjacent to the site of the future National Bio and Agro-Defense Facility, or NBAF, has a premier Education and Training Facility including a training laboratory that contains equipment to simulate BSL-3 research practices. Both CEEZAD and the BRI are committed to training a specialized workforce to protect the nation's agriculture and public health sectors against high consequence transboundary, emerging and zoonotic diseases.
Eligibility Requirements
U.S. citizenship
Cumulative GPA of 3.3 or higher on a 4.0 scale
Current enrollment as a full-time undergraduate (junior or senior), graduate student, or DVM student
Program Goals
To provide training on essential practices to safely conduct research in a BSL-3 and BSL-3 Ag environment
To provide current practical and scientific information on select high-consequence transboundary animal diseases including activities to be conducted at the future National Bio and Agro-Defense Facility (NBAF) in Manhattan, Kan.
To introduce students to the role of industry in infectious disease research and translation to commercial product
To provide networking opportunities with peers and subject matter experts in the field of high-containment research and transboundary diseases of animals
Program Overview
Week 1: Classroom and hands-on BSL-3 training at the BRI
One week of training will address topics, techniques and essential practices to safely and successfully conduct research in a Biosafety Level-3 setting. By the end of the training the student will be able to:
Demonstrate an understanding of risk group classifications and biosafety levels;
Identify potential risks associated with executing standard laboratory practices;
Engage in laboratory practices that reduce the potential for aerosol exposures;
Identify, select, and defend high containment practices required when manipulating agents and toxins;
Identify areas of potential vulnerabilities in the laboratory ecosystem/network to include how technology introduction may impact laboratory operations (cybersecurity), safety, security, and overall laboratory capability;
Demonstrate essential biocontainment practices for use in BSL-3, ABSL-3 and BSL-3Ag settings.
Week 2: Speaker series and Industry site visits
During the second week, students will attend field visits to CEEZAD and Kansas State University partners in the Greater Kansas City Animal Health Corridor. The final week will also include two days of seminars and lectures by academic and government experts in the fields of containment research and transboundary animal diseases. Topics covered will include:
Necropsy considerations in high-containment research
Careers in high-containment research
Rift Valley Fever virus
African Swine Fever virus
Classical Swine Fever virus
Arboviral diseases of livestock and horses
Research in a BSL-4 environment
Research at Plum Island Animal Disease Center and future projects at NBAF
All participants will be required to submit a final written report at the end of the program.
A certificate of completion for the program will be provided to signify the student has attended the program and is familiar with basic knowledge of BSL-3 environments.
---
December 10, 2019
CEEZAD director addresses OIE on fight against ASF
Two Kansas State University faculty members, including the director of the Center of Excellence for Emerging and Zoonotic Animal Diseases (CEEZAD), recently updated researchers at the World Organization for Animal Health (OIE) in Paris, France, on CEEZAD's novel mitigation strategies against a disease impacting much of the world's pork industry.
Dr. Juergen A. Richt briefed OIE staff members and experts on mitigation, vaccine and diagnostic strategies for African Swine Fever, which is spreading across eastern and central Europe as well as most of Asia.
The disease, which is not a health threat to humans but is almost always fatal in pigs, has depleted pork supplies in many areas, and has been cited as a major reason for recent increases in the price of food worldwide.
Since its discovery in China in August of 2018, "more than 50 percent of Chinese pigs have been culled or died with African Swine Fever," Dr. Richt said. He noted that China once produced 50 percent of pork in the world, 700 million pigs a year. "This is not happening any more."
The biggest problem, he said, is there is no vaccine, and no treatment for this disease. "The only way to control ASF is bio-security and culling of animals."
The World Organization for Animal Health (OIE) is the world's oldest and leading organization of researchers into animal-related diseases.
Dr. Roman Pogranichniy, a virologist and faculty member in Kansas State University's Department of Diagnostic Medicine and Pathobiology, and section head of the Virology and Serology Laboratory (http://www.ksdl.org), also lectured at OIE. He discussed recent efforts to train veterinarians and pig producers in Ukraine – where the disease is widespread – on ASF mitigation and control strategies to prevent disease from spreading and from being introduced into pig production facilities.
---
October 4, 2019
CEEZAD conducts lectures and research during Asia trip
Dr. Juergen Richt has returned from a two week-long visit to Asia designed to give lectures and combat the spread of animal diseases including African Swine Fever (ASF).
Dr. Juergen Richt, CEEZAD's director, conducted lectures and field tests in China, Mongolia and South Korea.
Dr. Richt said ASF, which made its way to China in August of 2018, has caused the loss "of a significant portion of the Chinese swine population." China has been home to the world's largest pork industry in recent years. He spoke about progress in CEEZAD's effort to control the spread of ASF using vaccines and point-of-need diagnostic techniques during lectures in Shanghai and Nanchang in China, Ulaanbaatar in Mongolia, and Seoul in South Korea.
Dr. Richt was told that pig prices were three times higher in China now than they had been during a previous visit about a year ago. Dr. Richt said that was due to steep declines in Chinese pork production, which also affected sales of sow feed and swine vaccines significantly.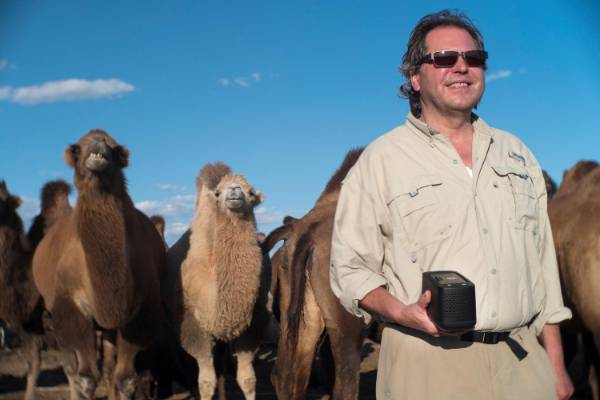 In Mongolia, Dr. Richt was joined by another CEEZAD member – Dashzeveg Bold, a CEEZAD graduate research assistant from Mongolia – and conducted field research in the Gobi Desert. That research included collecting blood and nasal swab samples from 90 young camels, and their diagnostic examination for Middle East Respiratory Syndrome (MERS) and Foot and Mouth Disease (FMD).
Dr. Richt mentioned that all the drawn samples proved negative for either disease, although some of the laboratory testing for MERS remains ongoing.
In Mongolia, the camel sampling and testing efforts were conducted in the field using mobile diagnostic PCR machines (Biomeme Franklin). Then, at the Central Veterinary Laboratory in Ulaanbaatar, Mongolia, CEEZAD conducted additional research on ASF, Classical Swine Fever and FMD. There the team was able to amplify and sequence parts of the genomes of all three viruses from infected samples using the portable PCR machine and the portable next generation sequencing device (MinION Nanopore).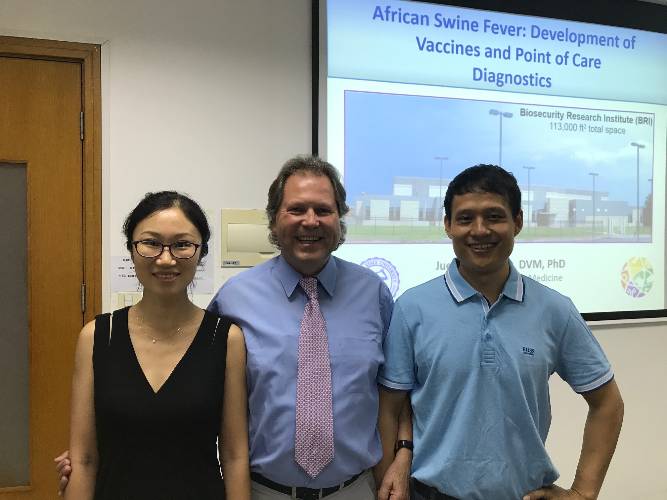 In Korea, Dr. Richt met with swine producers, veterinarians and veterinary diagnosticians. Dr. Richt also lectured on ASF at Konkuk University, South Korea's major veterinary medicine research university. Since identification of the ASF virus in South Korea on Sept. 20, the country's pig producers and veterinary authorities have been working to limit its spread.
---