The Center of Excellence for Emerging and Zoonotic Animal Diseases (CEEZAD) at Kansas State University was established in 2010 to help protect the nation's agricultural and public health sectors against high-consequence foreign animal, emerging and zoonotic disease threats. CEEZAD has four principal missions:
Development of novel, safe, efficacious and DIVA-compatible vaccines for prevention and control of high-impact emerging and zoonotic diseases that can be manufactured in the U.S.
Development and expansion of technologies and platforms for laboratory and point-of-need pathogen detection.
Development of models to predict high-consequence disease behavior in the U.S. to aid prevention or outbreak control.
Development of education and training programs for students, veterinarians, first responders and researchers in high-impact animal diseases and animal emergencies.
---
News/Events Highlights
October 4, 2019
CEEZAD conducts lectures and research during Asia trip
Dr. Juergen Richt has returned from a two week-long visit to Asia designed to give lectures and combat the spread of animal diseases including African Swine Fever (ASF).
Dr. Juergen Richt, CEEZAD's director, conducted lectures and field tests in China, Mongolia and South Korea.
Dr. Richt said ASF, which made its way to China in August of 2018, has caused the loss "of a significant portion of the Chinese swine population." China has been home to the world's largest pork industry in recent years. He spoke about progress in CEEZAD's effort to control the spread of ASF using vaccines and point-of-need diagnostic techniques during lectures in Shanghai and Nanchang in China, Ulaanbaatar in Mongolia, and Seoul in South Korea.
Dr. Richt was told that pig prices were three times higher in China now than they had been during a previous visit about a year ago. Dr. Richt said that was due to steep declines in Chinese pork production, which also affected sales of sow feed and swine vaccines significantly.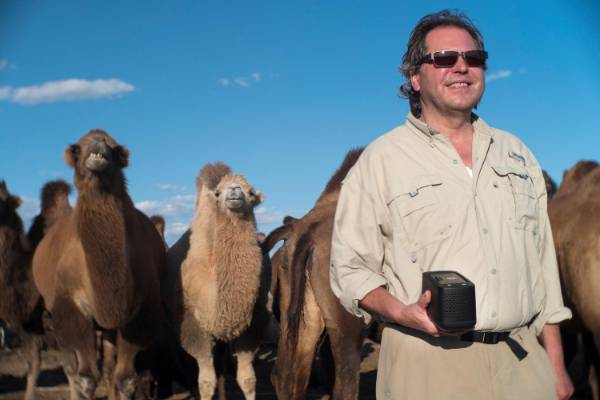 In Mongolia, Dr. Richt was joined by another CEEZAD member – Dashzeveg Bold, a CEEZAD graduate research assistant from Mongolia – and conducted field research in the Gobi Desert. That research included collecting blood and nasal swab samples from 90 young camels, and their diagnostic examination for Middle East Respiratory Syndrome (MERS) and Foot and Mouth Disease (FMD).
Dr. Richt mentioned that all the drawn samples proved negative for either disease, although some of the laboratory testing for MERS remains ongoing.
In Mongolia, the camel sampling and testing efforts were conducted in the field using mobile diagnostic PCR machines (Biomeme Franklin). Then, at the Central Veterinary Laboratory in Ulaanbaatar, Mongolia, CEEZAD conducted additional research on ASF, Classical Swine Fever and FMD. There the team was able to amplify and sequence parts of the genomes of all three viruses from infected samples using the portable PCR machine and the portable next generation sequencing device (MinION Nanopore).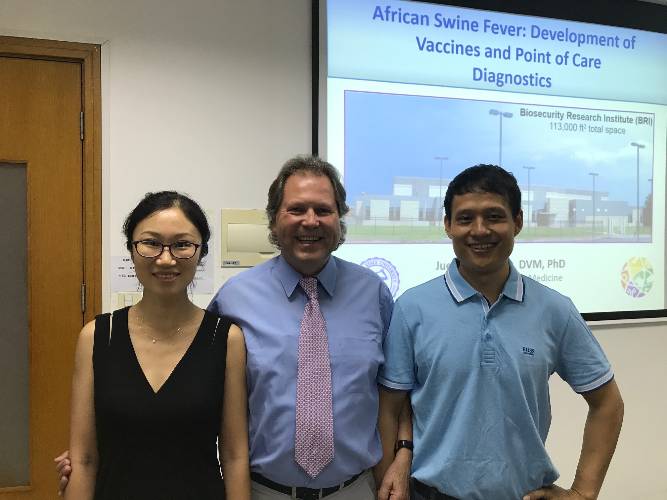 In Korea, Dr. Richt met with swine producers, veterinarians and veterinary diagnosticians. Dr. Richt also lectured on ASF at Konkuk University, South Korea's major veterinary medicine research university. Since identification of the ASF virus in South Korea on Sept. 20, the country's pig producers and veterinary authorities have been working to limit its spread.
September 19, 219
Where in the world is CEEZAD?
It has been a busy time for CEEZAD! Here are a few travel highlights from the past few weeks: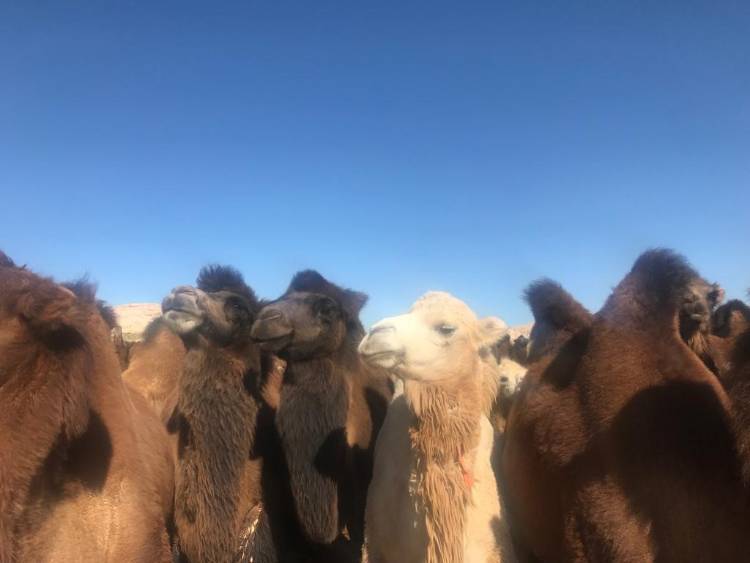 These camels are from the Gobi Desert in Mongolia. CEEZAD members are there collecting samples.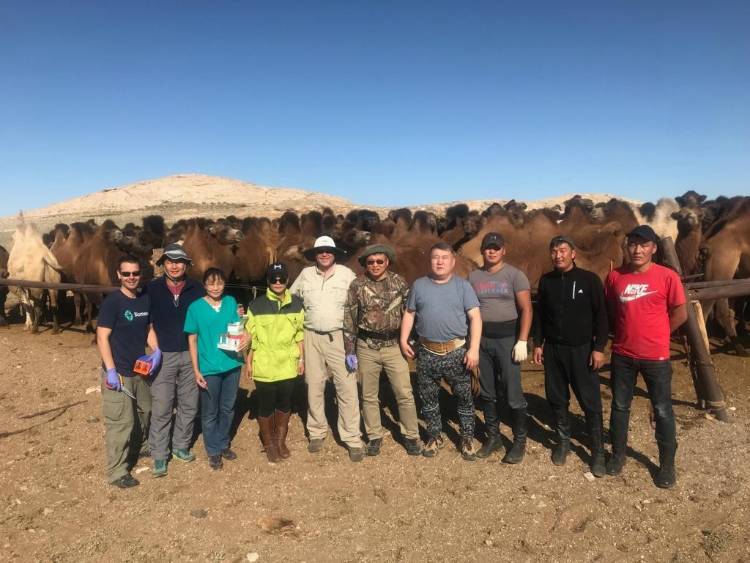 Dr. Richt, Dr. Bold, and team in the field collecting samples from camels.
Dr. Richt presents at Jiao Tong University in Shanghai.
---
August 27, 2019
CEEZAD director offers expertise to DHS security program
Cody Gregory (S&T, left) and Juergen Richt (Kansas State University, right) discuss best practices.
The director of CEEZAD served as a subject matter expert for a Department of Homeland Security exercise designed to test DHS's ability to utilize best scientific practices for Rift Valley Fever. Dr. Juergen Richt provided expertise for the Department's Science Advisory Guide for Emergencies (SAGE), which provides up-to-date scientific and technical support for homeland security threats, emergencies and major disasters.
Dr. Richt's specific area of involvement concerned the security threat posed to the nation's agricultural sector by Rift Valley Fever, a disease of ruminants and humans. Much of CEEZAD's focus has been on developing a safe, efficacious and DIVA-compatible vaccine for the disease.
Dr. Richt worked in concert with Cody Gregory, SAGE Program Manager for the department's Science and Technology Directorate, and led a discussion on the potential security implications posed by RVF.
---

July 25, 2019
CEEZAD scientists take on a significant national security threat
When people think of threats to the nation's security, those thoughts generally involve mass-casualty scenarios.
Yet one potential significant national security threat could involve natural or intentional introduction of a virus that can't take a single human life. It could, however, devastate one of the most important segments of the nation's food industry.
Scientists at the Kansas State University-based Center of Excellence for Emerging and Zoonotic Animal Diseases are researching methods to ensure that never happens.
The threat is from African Swine Fever (ASF), a disease that is endemic in swine populations in various parts of the world, including Africa, Eastern Europe and Asia. In 2018 the disease was for the first time discovered in China, the world's largest pork producing nation.
"Within 12 years of the virus emerging in the Republic of Georgia, African swine fever has spread throughout most of Eastern Europe and across the entire continent of Asia into China, Vietnam, Laos, North Korea and Cambodia," said Daniel Madden, a graduate research assistant with the CEEZAD-affiliated Richt Lab who researches the virus. "It is very likely that future outbreaks will occur in areas that have never seen this disease before; and we must be prepared."
Although ASF cannot be passed to humans, the economic implications for swine industries in nations where the disease has been found have been substantial. And given the widespread use of pigs as a source of food, medicines and financial investment, implications for the economy of any nation where ASF is introduced can also be significant.
Dr. Juergen Richt, CEEZAD's director and a widely respected researcher on the topic of ASF, noted that wholesale pork prices in China are already 20 percent higher than they were a year ago, before ASF was discovered in that country.
With specific respect to the U.S. food industry, the concern is two-fold: that ASF could be introduced inadvertently, or that it could be introduced deliberately. Obviously, American Customs and Border Protection (CBP) personnel are alert to the threat and take measures to prevent the introduction of ASF here. High biosecurity standards are in place at the nation's land borders, ports and airports, designed to minimize the threat of either accidental or deliberate introduction of this dangerous viral agent.
Clearly, it's asking a lot of our CBP personnel to ensure against the introduction of something as small as a virus. Dr. Richt characterized the risk of further spread of the virus into currently unaffected areas as high, mainly through movement of contaminated pork, pork products, infected pigs and wild boar, or through contaminated vehicles, fomites, or feed.
There is no commercially available vaccine, in part due to the complex nature of the virus. Development of such a vaccine is one focus of work at CEEZAD. Those same researchers are also developing rapid diagnostic tests that could detect viral antigens, antibodies or DNA to the virus so if the disease does show up in the U.S., it can be identified quickly and hopefully stopped before it spreads widely.
---
June 17, 2019
Ten Talented Students Successfully Complete CEEZAD's BSL-3 Summer Training Program
CEEZAD's recently concluded Summer Training Program gave 10 promising students a chance to explore the full range of professional opportunities available to them as they progress along their career paths. The program provided students with hands-on experience in high-containment laboratory situations and acquainted them with recent developments in the field of veterinary infectious disease studies.
The BSL-3 Summer Training Program is an annual exercise in which CEEZAD gathers experts in the fields of biosecurity, virology, pathobiology and related fields in order to educate promising students who are interested or already involved in veterinary research in those fields.
Most of the program takes place at the Biosecurity Research Institute (BRI) at Kansas State University. This included one week of training at the BRI into procedures that are used to ensure safety in a BSL3 environment. Additionally, the program featured visits to various industry, business and educational sites within the Greater Kansas City Animal Health Corridor. Participants visited four Kansas City area firms involved in various aspects of the veterinary health industry: Midwest Research Institute (MRI Global), Bayer Animal Health, Citoxlab, and Merck Animal Health.