The Center of Excellence for Emerging and Zoonotic Animal Diseases (CEEZAD) at Kansas State University was established in 2010 to help protect the nation's agricultural and public health sectors against high-consequence foreign animal, emerging and zoonotic disease threats. CEEZAD has four principal missions:
Development of novel, safe, efficacious and DIVA-compatible vaccines for prevention and control of high-impact emerging and zoonotic diseases that can be manufactured in the U.S.
Development and expansion of technologies and platforms for laboratory and point-of-need pathogen detection.
Development of models to predict high-consequence disease behavior in the U.S. to aid prevention or outbreak control.
Development of education and training programs for students, veterinarians, first responders and researchers in high-impact animal diseases and animal emergencies.
---
News/Events Highlights
May 1, 2019
CEEZAD's director speaks at Veterinary Biologics spring meeting
The director of the Center of Excellence for Emerging and Zoonotic Animal Diseases (CEEZAD) was a featured speaker at the spring meeting of the Association of Veterinary Biologics Companies held April 24 in Ames, IA.
Dr. Juergen Richt spoke to the group on the current status of African Swine Fever. He also outlined CEEZAD research progress toward developing a vaccine against the disease, and addressed CEEZAD's efforts to enhance point-of-care diagnostic tests.
African Swine Fever is a fatal viral disease of pigs that is endemic in many parts of Africa, Europe and Asia. Due to its ability to spread quickly and to its potential to inflict serious damage to pig populations, it is viewed as a major threat to the food industry worldwide.
CEEZAD researchers are engaged in numerous studies to develop a safe, efficacious vaccine against ASF. They are also developing sensitive and specific point-of-care diagnostic tests.
In addition to his work with CEEZAD, Dr. Richt is the Regents Distinguished Professor at Kansas State University, where he is a member of the faculty of the Department of Diagnostic Medicine/Pathobiology.
---
April 29, 2019
CEEZAD team conducts field research in South Africa designed to expand knowledge of a tick linked to the spread of ASF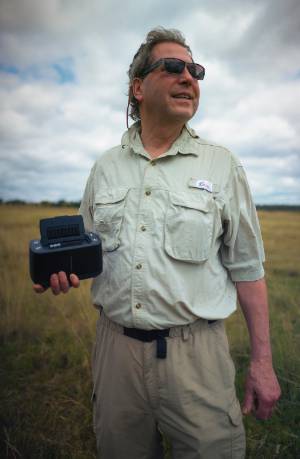 CEEZAD team leader Dr. Juergen Richt uses a portable PCR machine to determine the prevalence of African Swine Fever virus in a game park near Pretoria, South Africa.
A team of CEEZAD researchers recently spent two weeks in South Africa researching the spread and movement of African Swine Fever.
Dr. Juergen Richt, CEEZAD's director, led the research team, whose work took them for several days into remote areas of that nation. Other participants included Dr. Jessie Trujillo, a senior research associate, and Russell Ransburgh, a research assistant, along with Dr. Bill Wilson, a research microbiologist with the United States Department of Agriculture's Arthropod-borne Animal Disease Research Unit in Manhattan.
The CEEZAD researchers worked in collaboration with Dr. Bob Swanepoel, of the Department of Veterinary Tropical Diseases at the University of Pretoria in South Africa.
The CEEZAD team conducted two days of field work in South African national parks exploring habitats frequented by warthogs and collecting a species of tick known as Ornithodoros Moubata. That species is recognized as a principal means by which African Swine Fever Virus is spread during its sylvatic cycle.
African Swine Fever is a highly contagious hemorrhagic viral disease of domestic and wild pigs that is prevalent in many regions of the world. The World Organization for Animal Health has identified ASF as a usually fatal disease that poses a significant threat to the food animal industry because no vaccine has been developed against it.
CEEZAD researchers are working on the development of such a vaccine.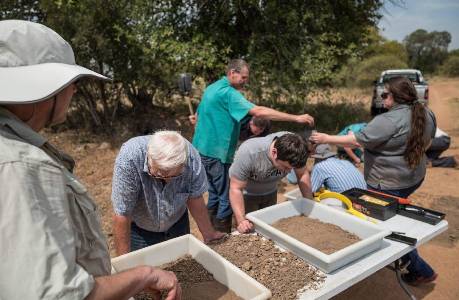 CEEZAD team members (from left) Dr. Juergen Richt, Dr. Bob Swanepol, Dr. Livio Heath, Rusty Ransburgh and Dr. Jessie Trujillo sort through soil collected in a warthog burrow in a game park close to Pretoria, South Africa in search of ticks as part of a study on the spread of African Swine Fever.
Ticks that were collected during the field study were brought to the Onderstepoort Veterinary Institute (OVI), where they were to be tested to determine the extent of the presence of the ASF virus in the areas from which they were taken. Those ticks will also be used for development of a tick colony that can provide the basis for additional research.
During their stay, CEEZAD researchers also performed other related assignments.
Dr. Richt and Mr. Ransburgh delivered lectures to students and professionals training in virology, and also conducted research in the OVI's BSL-3 labs there.
Dr. Trujillo conducted comparisons of point-of-care diagnostic tools with lab-based technology used to diagnose foot and mouth disease virus.
Dr. Richt characterized the work as successful.
"One of the things that will result is a map of warthog burrows noting those that are with and without ticks, and with and without ASF" he noted. He said researchers also added to their knowledge of the role of ticks along with the best methods of collecting them, and expanded the understanding of the value of point-of-care diagnostics.
---
April 23, 2019
Ten selected for CEEZAD BSL-3 Summer Workshop Training
Ten students from among 34 applicants have accepted invitations to take part in CEEZAD's BSL-3 Summer Training Workshop this coming June.
The Workshop will be held June 3-13 in Manhattan and Kansas City. Participants will receive training in animal disease response, biosecurity, biodefense and select agent regulation. They will also be schooled in proper procedures to be followed in a BSL-3 laboratory environment.
They will engage in group project work, in a discussion of large animal necropsy procedures, emergency procedures, cybersecurity and related topics.
They will also hear from experts in various aspects of emerging and zoonotic diseases.
The Workshop is an annual exercise in which CEEZAD gathers experts in the fields of biosecurity, virology, pathobiology and related fields in order to educate promising students who are interested in those fields. Most of the sessions take place at the Biosecurity Research Institute at Kansas State University. The event also features visits to various industry, business and educational sites within the Kansas City Animal Health Corridor.
The participants, most of them post-graduate students, are involved in the study of various research methods into infectious diseases. Their names, schools and current majors are:
Gregory Stapleton, Cornell University College of Veterinary Medicine, DVM.
Katelyn Haydett, Michigan State University, DVM.
Sarah Murray, Texas A&M, PhD.
Megan Toms, Virginia-Maryland College of Veterinary Medicine, DVM/MPH.
Jonathan Teeple, Michigan State University, DVM/MPH.
Dana Stewart, Michigan State University DVM/MPH.
Grayson Walker, North Carolina State University, DVM/PHD.
Madeline Butterfield, University of South Dakota, BS in medical biology and Kansas State University DVM student.
Andrea Ayala, University of Georgia, PhD in comparative biomedical sciences.
Elsa Sanabria, North Carolina State University, DVM/MPH.
---