---
The Center of Excellence for Emerging and Zoonotic Animal Diseases (CEEZAD) at Kansas State University was established in 2010 to help protect the nation's agricultural and public health sectors against high-consequence foreign animal, emerging and zoonotic disease threats. CEEZAD has four principal missions:
Development of novel, safe, efficacious and DIVA-compatible vaccines for prevention and control of high-impact emerging and zoonotic diseases that can be manufactured in the U.S.
Development and expansion of technologies and platforms for laboratory and point-of-need pathogen detection.
Development of models to predict high-consequence disease behavior in the U.S. to aid prevention or outbreak control.
Development of education and training programs for students, veterinarians, first responders and researchers in high-impact animal diseases and animal emergencies.
---
News/Events Highlights
October 20, 2016
VACCINE WORKSHOP / CEEZAD ANNUAL MEETING
Lied Lodge - Nebraska City, Nebraska
October 31-November 2, 2016
Please click here for Meeting Agenda
For more information about this meeting, please contact vmce@vet.k-state.edu
---
August 12, 2016
SAVE THE DATE!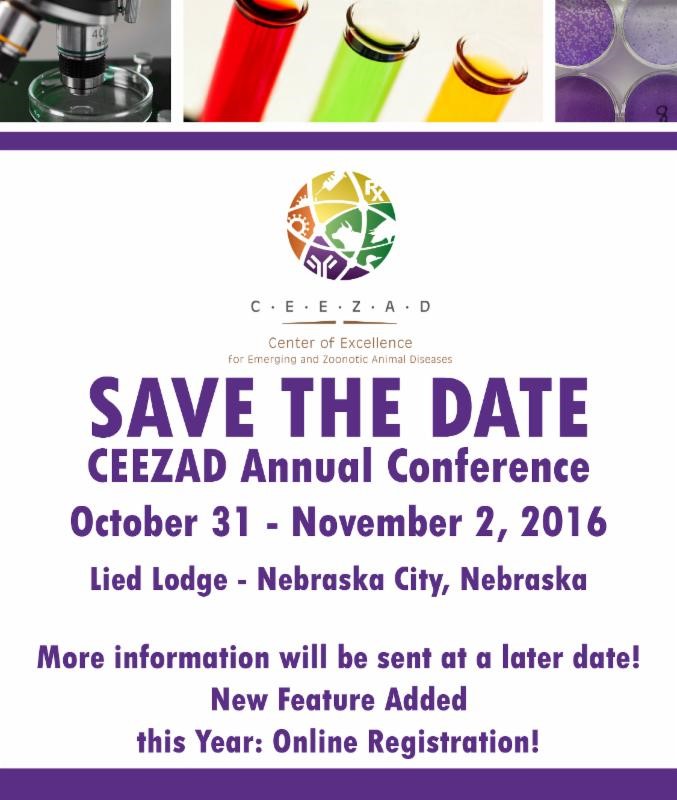 ---
August 1, 2016
CEEZAD Receives $2.3 Million for Vaccine Research
The Center of Excellence for Emerging Zoonotic and Animal Diseases (CEEZAD) has recently received a $2.3 million grant from the Defense Threat Reduction Agency (DTRA) to conduct research on the safety in livestock of a newly developed vaccine to protect humans against infection with the Ebola Zaire virus. DTRA is an agency within the US Department of Defense.
The grant, from DTRA in a collaboration with the commercial firm NewLink Genetics, includes a $100,000 matching contribution from the State of Kansas' NBAF Transition Funds. KSU researchers will study the safety of the vaccine in swine, cattle, and horses in KSU's Biosecurity Research Institute.
The vaccine is called "VSV-ZEBOV," which is an acronym for vesicularstomatitis virus, a virus with particular importance to farmers since it can infect cattle and its clinically presentation is identical to the foot and mouth disease virus, and the Zaire strain of Ebola virus, the main strain that causes the severe, often fatal, Ebola hemorrhagic fever disease in humans. The virus is thought to be transmitted to people from an as-yet unidentified wild animal reservoir, and then spreads in the human population through human-to-human transmission. The average disease case fatality rate is around 50%, but has varied from 25% to 90% in various outbreaks.
Dr. Juergen A. Richt, the Regents Distinguished Professor at KSU, will be the principal investigator for the project. The live, recombinant vaccine consists of an attenuated Indiana strain of VSV, wherein the surface glycoprotein component of VSV has been replaced with the Ebola virus glycoprotein component in order to induce protective immunity against the Ebola Zaire virus.
"We are very excited to begin research to test the safety of this vaccine, the only efficacious Ebola virus vaccine yet, for safety in livestock at KSU", said Dr. Richt in announcing receipt of the award. "As the world saw with the deadly 2014 outbreak in West Africa, Ebola is one of the most serious emerging zoonotic threats to humans," Dr. Richt took particular note of "the generous contribution of $100,000 from the NBAF Transition Funds toward the study."
Zoonotic diseases are those capable of being transmitted from animals to humans and vice-versa. It is thought that Ebola virus, which was first identified in 1976, is introduced into the human population through close contact with infected animals such as chimpanzees, gorillas, bats, monkeys, maybe antelope and porcupines. It is also possible that the Ebola virus can be transmitted through sexual contact involving already-infected persons. The Zaire species of Ebola virus is one of five species that have been identified, and has been associated with large disease outbreaks in Africa – including the 2014 West African outbreak infected an estimated 28,600 people and resulted in more than 11,000 deaths.
At KSU, the researcher will test the safety of the vaccine in swine, cattle and horses; it needs to be noted that no infectious Ebola virus will be used during these studies at KSU. The work will provide information to supplement the overall safety of the VSV-ZEBOV vaccine.
CEEZAD is a US Department of Homeland Security Center of Excellence established in 2010 at the Kansas State University College of Veterinary Medicine.
---