2019 Press Releases
December 10, 2019
CEEZAD director addresses OIE on fight against ASF
Two Kansas State University faculty members, including the director of the Center of Excellence for Emerging and Zoonotic Animal Diseases (CEEZAD), recently updated researchers at the World Organization for Animal Health (OIE) in Paris, France, on CEEZAD's novel mitigation strategies against a disease impacting much of the world's pork industry.
Dr. Juergen A. Richt briefed OIE staff members and experts on mitigation, vaccine and diagnostic strategies for African Swine Fever, which is spreading across eastern and central Europe as well as most of Asia.
The disease, which is not a health threat to humans but is almost always fatal in pigs, has depleted pork supplies in many areas, and has been cited as a major reason for recent increases in the price of food worldwide.
Since its discovery in China in August of 2018, "more than 50 percent of Chinese pigs have been culled or died with African Swine Fever," Dr. Richt said. He noted that China once produced 50 percent of pork in the world, 700 million pigs a year. "This is not happening any more."
The biggest problem, he said, is there is no vaccine, and no treatment for this disease. "The only way to control ASF is bio-security and culling of animals."
The World Organization for Animal Health (OIE) is the world's oldest and leading organization of researchers into animal-related diseases.
Dr. Roman Pogranichniy, a virologist and faculty member in Kansas State University's Department of Diagnostic Medicine and Pathobiology, and section head of the Virology and Serology Laboratory (http://www.ksdl.org), also lectured at OIE. He discussed recent efforts to train veterinarians and pig producers in Ukraine – where the disease is widespread – on ASF mitigation and control strategies to prevent disease from spreading and from being introduced into pig production facilities.
---
September 19, 219
Where in the world is CEEZAD?
It has been a busy time for CEEZAD! Here are a few travel highlights from the past few weeks: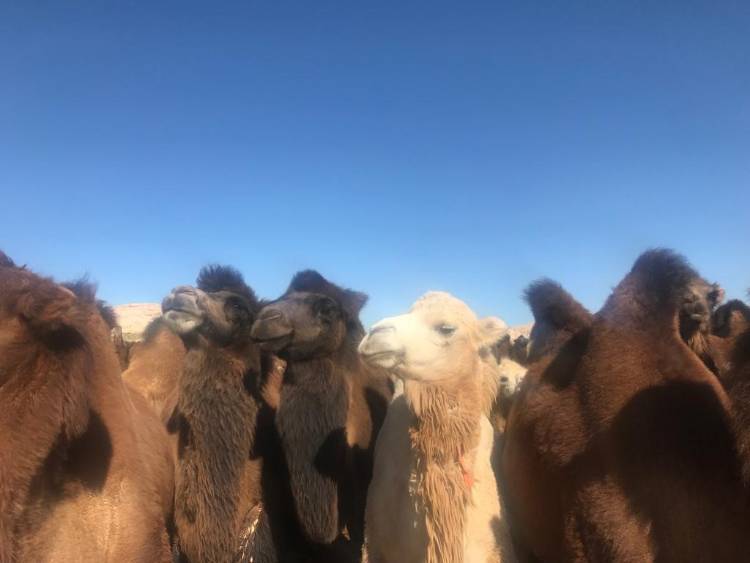 These camels are from the Gobi Desert in Mongolia. CEEZAD members are there collecting samples.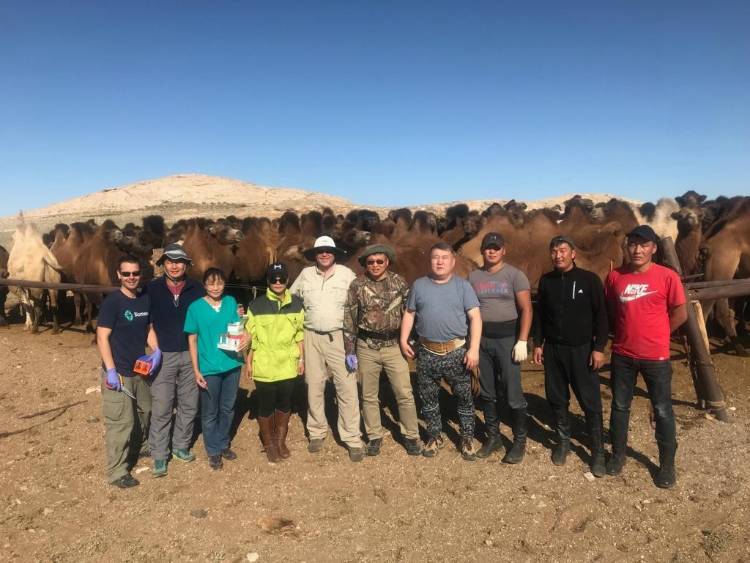 Dr. Richt, Dr. Bold, and team in the field collecting samples from camels.
Dr. Richt presents at Jiao Tong University in Shanghai.
---
August 27, 2019
CEEZAD director offers expertise to DHS security program
Cody Gregory (S&T, left) and Juergen Richt (Kansas State University, right) discuss best practices.
The director of CEEZAD served as a subject matter expert for a Department of Homeland Security exercise designed to test DHS's ability to utilize best scientific practices for Rift Valley Fever. Dr. Juergen Richt provided expertise for the Department's Science Advisory Guide for Emergencies (SAGE), which provides up-to-date scientific and technical support for homeland security threats, emergencies and major disasters.
Dr. Richt's specific area of involvement concerned the security threat posed to the nation's agricultural sector by Rift Valley Fever, a disease of ruminants and humans. Much of CEEZAD's focus has been on developing a safe, efficacious and DIVA-compatible vaccine for the disease.
Dr. Richt worked in concert with Cody Gregory, SAGE Program Manager for the department's Science and Technology Directorate, and led a discussion on the potential security implications posed by RVF.
---

June 17, 2019
Ten Talented Students Successfully Complete CEEZAD's BSL-3 Summer Training Program
CEEZAD's recently concluded Summer Training Program gave 10 promising students a chance to explore the full range of professional opportunities available to them as they progress along their career paths. The program provided students with hands-on experience in high-containment laboratory situations and acquainted them with recent developments in the field of veterinary infectious disease studies.
The BSL-3 Summer Training Program is an annual exercise in which CEEZAD gathers experts in the fields of biosecurity, virology, pathobiology and related fields in order to educate promising students who are interested or already involved in veterinary research in those fields.
Most of the program takes place at the Biosecurity Research Institute (BRI) at Kansas State University. This included one week of training at the BRI into procedures that are used to ensure safety in a BSL3 environment. Additionally, the program featured visits to various industry, business and educational sites within the Greater Kansas City Animal Health Corridor. Participants visited four Kansas City area firms involved in various aspects of the veterinary health industry: Midwest Research Institute (MRI Global), Bayer Animal Health, Citoxlab, and Merck Animal Health.