Bonto Faburay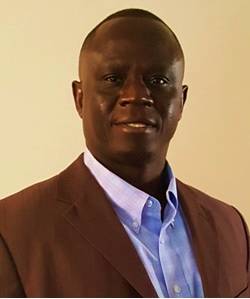 Research Assistant Professor
Phone: (785) 532-3639
Fax: (785) 532-4039


Education:
Research Assistant Professor, Microbiology
Post-doctoral Fellow (2008) - Kansas State University, USA
PhD (2007) - Utrecht University, The Netherlands
DVM (with Honors) (1996) - Moscow State Academy of Veterinary Medicine and Biotechnology, Russia


Research Interests: My primary research interest is in emerging and zoonotic diseases and includes diagnostics, vaccines, molecular microbiology and molecular epidemiology to develop effective countermeasures. My current research involves a variety of pathogens of zoonotic and agricultural importance such as Rift Valley fever virus (RVFV), Schmallenberg virus (SBV) and prions (scrapie and chronic wasting disease) and focuses on diagnostics, vaccines and molecular virology. I extensively use recombinant baculovirus expression system as a platform for expression of specific pathogen proteins for use in research in diagnostics and subunit vaccines. My other research interest includes RNA interference as a tool for posttranscriptional silencing of specific virus and host genes and its potential application as an antivirus therapeutic agent.


Additionally, I am interested in research into host receptor(s) used by RVFV for attachment to initiate infection of target host cells; the identification of a host-specific receptor should facilitate the development of novel and effective antiviral treatment. Furthermore, I maintain research interest in diagnostics and vaccines for Ehrlichia ruminantium, an emerging tick-borne rickettsial pathogen with zoonotic potential and the causative agent of heartwater disease in domestic ruminants (sheep, goats and cattle). I am interested in promoting research, training and capacity building through national and international collaboration.